By Eric Struck
WRs/Passing Game Coordinator/Special Teams Coordinator
Sioux Falls Washington High School (SD)
Twitter: @EricStruck
We went into the last off-season and wanted ways to be more multiple in the passing game without adding a bunch of new plays that our kids would have to learn. I think most coaches watch their game film or scout film and see things that are available that they would like to or wish they would have been able to run but maybe don't have the flexibility within their scheme to do so. We wanted something that would work with the Four Verticals Concept, which is what we hang our hat on in the passing game, as well as something that was simple for our kids to learn and something that was simple for us as coaches to teach to our kids. What we were able to develop was a system of 2 man tags that we could attach to our passing game that would give us multiple options from week to week based on what the defense was making available, provide some diversity into our offense and allow for more freedom to call plays based on in-game adjustments.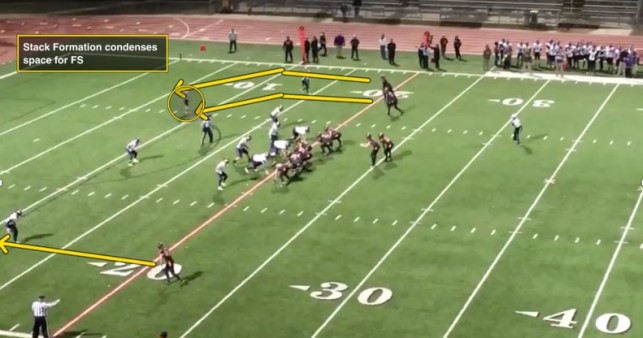 Installation
When we started this process, we were looking for concepts that would help us attack coverages that we see most often. The main coverage that we see is some form of Quarters or Cover 4. With the way that we run our Four Verticals concept we have had success versus Cover 4 but there was always open areas or space that we weren't able to take advantage of.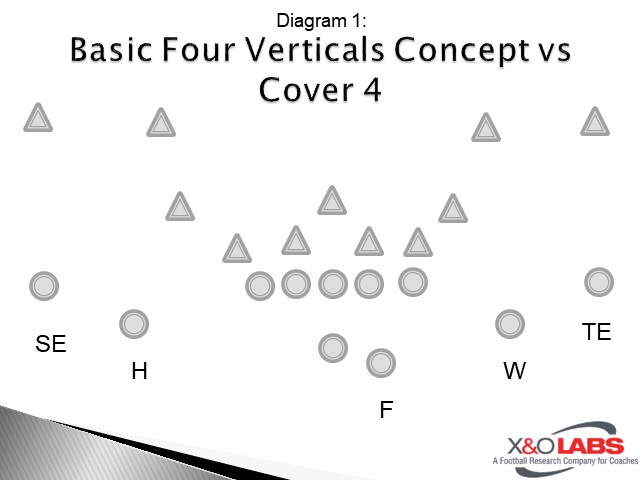 With our system of 2 Man tags, we were able to take advantage of some of the open areas that the defense was giving us. We wanted most of these tags to be vertical in nature (as far as releases and stems) so that it would appear like Four Verticals to the defense. When we started implementing these tags during our summer workouts, we started everything from a 2x2 formation. We are a no-huddle offense, so when we signaled plays in, we decided it was best that the first concept signaled in pertained to the left side of the formation and the 2nd signal would apply to the right side of the formation. It didn't take very long for our kids to pick up the system and we were quite happy with it coming out of the summer.
Double Post Tag
The first tag that we implemented was the Double Post tag, which we called "Depot".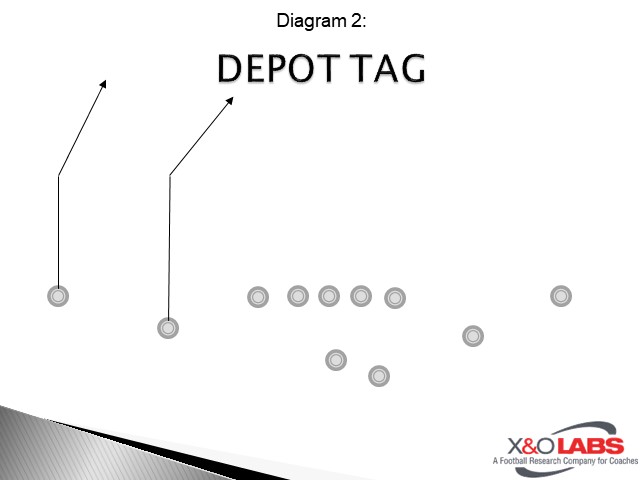 Both receivers would run a seven-step route (we are inside foot forward team) and then plant off the outside foot and break at roughly a 45-degree angle. The outside receiver has more freedom on how sharp to break his route based on the open space available. On the opposite side, we could tag any of our main concepts that we wanted to be based on the game plan, matchups, space, etc. The main concept run to the other side would be our Four Verticals.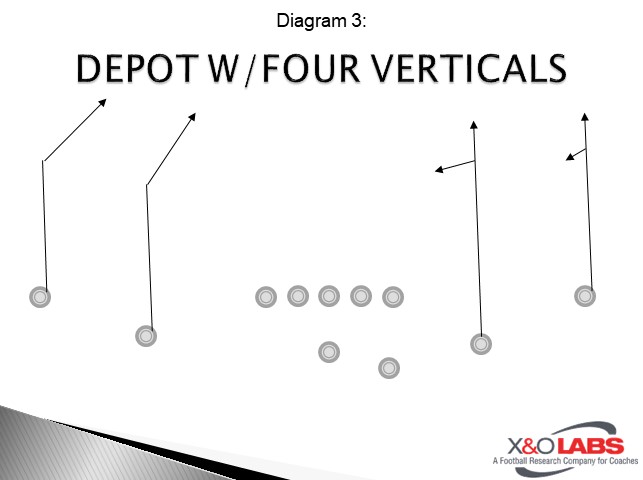 When we run/call this play we really like it vs Cover 3 or Cover 4. We are looking to get the outside receiver open by using the inside post to take the near safety away from helping on the outside receiver. We are hoping to create open space for that outside receiver. The QB would start his read to the nearest safety and if that safety travels with the inside post then he can hit the outside receiver.
To study game film of this concept, click on the video below: