By Mike Kuchar
Senior Research Manager
X&O Labs
Twitter: @MikekKuchar
Introduction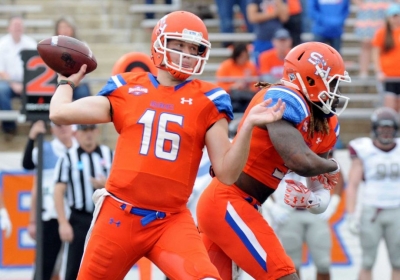 In most spread offensive systems a lot of responsibility is placed on the quarterback. He'll often have to identify the Mike, read the coverage structure, check the protection, align the offset running back and communicate the play call to the offensive line. That's before the ball is even snapped. It was a daunting process and a world that Coach Longo doesn't want his quarterback living in. So when he started crafting the system, his plan was to streamline the pre-snap thought process as much as possible. "Our quarterbacks don't talk to the offensive line at all," he told us. "They don't signal anything to the receivers. It's not his job. We don't even call or check protection. We don't want them doing anything but completing balls. We don't want them to read defenders and know coverages. That's why our sacks are low." The Bearkats surrendered 1.4 sacks per game last season.
The premium is set on getting the ball out quickly to receivers who heave learned the value of exploiting space. Coach Longo will reference the term "screaming" often, which means that the route has to be clearly open for the quarterback to throw the ball. "We have incompletes because of bad throws, incomplete passes and poor quarterback decisions or by pressure," said Coach Longo. "It's usually not because we are covered. The route progression is usually there." But make no mistake. Even then, Coach Longo and his staff continue to alleviate the signal caller's responsibilities, it does take a dynamic leader to run this offensive system. The last quarterback to run it was the 2015 Southland Conference Offensive Player of the Year. "We need a quarterback who can think and throw," said Coach Longo. "He is a distributor of the ball to our talent base. Anything more is icing for us. We will take advantage of a quarterback who can also run, but we don't want an athletic quarterback who cannot think and throw."
According to Sam Houston State head coach KC Keeler, having variety at the quarterback position, the Bearkats rotated between two signal callers last season, just adds to malleability of the offensive system. "You can win in a whole different variety of quarterback play here," said Coach Keeler. "We can win with a dynamic quarterback that runs the ball because they have to crowd the box and he's a run threat because it opens up throwing lanes. But we have used another quarterback that if you crowd the box against him, he will kill you on the routes on the perimeter. You don't need a particular quarterback to be successful here. We are not stuck in one mantra where we have to have a (Joe) Flacco (Coach Keeler coached Flacco the University of Delaware)."
Pre-Snap Understanding
Now as far as what the quarterback is expected to know pre-snap, much of it relies around two coverage types: Nickel (one-high) and Dime (two-high). That's it. Really. Many of his decisions are made pre-snap based on those two coverage structures. There are no "coverage beaters" in this system. Each route is designed to attack any coverage. The ball just might end up in a different place. And as far as rotations are concerned, that is usually game planned as well. "We evaluate the safeties in all our games to tell us which one is our indicator," said Coach Longo. "Many times it's the boundary safety. One of those safeties will be identified as to whether or not he is going to spin. Each team is different. Most defenses tip it off. Pre-snap we see where the space is and we take it. If the QB sees more space, he knows where he is going. We only work a third of the field."
QB Progressions
There is a major difference in Sam Houston State's Air Raid system as it pertains to quarterback progressions, there are not reads, just "looks." In its clearest sense, the quarterback doesn't read defenders. He looks for open receivers. These looks are classified as first look, second look and third look. If the third look is not there, the quarterback tucks the ball and finds space in the front (like a receiver would) to gain yards. The quarterback should already have a pre-snap understanding of where he is going with the ball based on the where the space is in the defense pre-snap. "Which route is coming open first is the first look," said Coach Longo. "Which route will come open second is what I throw next. We look at the vertical routes first then go from there." It's important to note that even though the quarterback might know where he is going, it's that imperative that to look off defenders, he must use his facemask, not his eyes. "We work to get our facemasks in that direction, not the eyes," he said. "We decide on the first look in our drop if the ball is going there. To do that, we need to have our eyes over there. My facemask needs to be down the middle of the field. When a quarterback reads a defender my eyes have to go to the defender then to receiver then to second receiver. That takes more time. Some teams will not even plan pressures because there is no way they are getting to the quarterback or getting a free run on him," said Coach Longo. "They just planned on using man coverage and getting underneath throwing lanes. When you don't put pressure on the QB and he can get through all three looks and it's very difficult for us to get stopped if we can get through all three looks." Coach Longo reaffirms this with a story from when Patrick Toney, a former assistant from rival Southeastern Louisiana came on board at Sam Houston State. "He told me they didn't gameplan a lot of pressures against us in our playoff matchup the previous year," Coach Longo recalls. "They didn't feel they could get to the quarterback because we triggered the ball so quickly. That's the world we want to live in."
To study drill work on how Coach Longo teaches the facemask look off, click on the video below: