By Jeremy Darveau - @CoachDarveau
Former Offensive Coordinator
Southwest Minnesota State University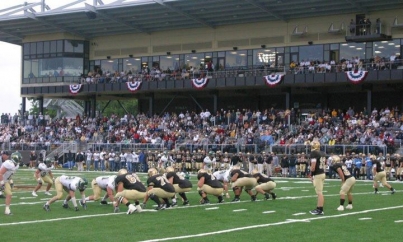 Editor's Note: Jeremy Darveau just finished his sixth season on the SMSU coaching staff as the team's offensive line coach and his first as the offensive coordinator. The Mustang offense has never been more potent than it was in 2013. SMSU broke numerous school and conference records including total offensive yards, rushing yards and total points scored. The SMSU offense also produced a school first Harlon Hill Trophy finalist in Running back Tyler Tonderum. Darveau also oversaw an offensive line that produced three All-NSIC linemen as well as 2 All-Region offensive linemen and one All-American.
INTRODUCTION
It doesn't take a Mike Leach, Chip Kelly or Gus Malzahn to realize every single offensive snap counts. When we first installed our spread scheme early this year we installed it with the mindset that we want to spread the defenders on the field both vertically and laterally. Our goal is not to out-physical you, in fact, it's not even to out scheme you, we will be successful by winning the numbers game.
In the fall of 2010 we were presented with a common problem that plagues every offensive line coach in the country, how do we run versus an overloaded box? Our first solution was to pull our wide receivers graduate assistant to the side and berate him for his player's inability to dig out a linebacker playing in the box (oh, the life of a graduate assistant…) needless to say that had little or no effect and we had no success. Our next solution was to just call passing plays if we were seeing a lot of overloaded boxes. That basically turned into a guessing game, we ended up guessing wrong as much as we guessed right. So in early 2011 we decided to experiment with combining various runs with pass options attached to handle the overloaded box. This was an immediate home run.
Since developing our system of packaged plays we have had tremendous success; we became the #1 offense in school history, we broke 23 team school record, we broke 17 individual school records, we produced our first ever Harlon Hill candidate (D2 Heisman) and we led our school to its first ever bowl appearance. We could not be more pleased with the results.
WHAT YOU NEED TO WIN THE NUMBERS GAME