By Scotty Walden - @ETBUCoachW
Offensive Coordinator/ Quarterbacks Coach
East Texas Baptist University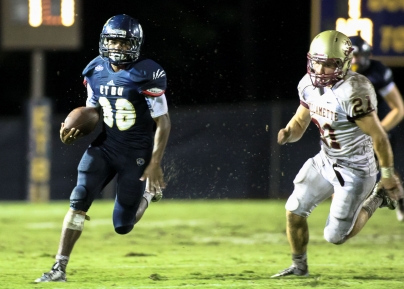 Editor's Note: Scotty Walden is the Offensive Coordinator and Quarterbacks coach at East Texas Baptist University located in Marshall, Texas. It is his second year coaching there and previously was the Offensive Coordinator and Quarterbacks coach at Sul Ross State University in Alpine, Texas. He is originally from Cleburne, Texas just south of Fort Worth and finished my collegiate career playing quarterback at Sul Ross State University in 2011.
Going into the season at ETBU we had 8 quarterbacks on our roster. 5 out of those 8 quarterbacks took snaps for us this season due to injury. This was a completely new challenge to me as I had a 10 game starter at Sul Ross State University the season before. These injuries caused us to re-think our offensive strategies because each of our quarterbacks possessed a unique skill set. For instance, our starter was a guy who could not only throw from the pocket but could read the zone or pull the ball down and run when he wanted to. He was a true dual-threat. In contrast our backup quarterback was a pure pocket passer while our other quarterbacks were pure runners. With these varying styles of quarterbacks, we had to find a way to tweak our system to play to our starter's strengths. Obviously with our pocket passing quarterback we wanted to throw the ball a little more because that is what he does well. But, we also did not want to lose our ability to run the football.
Our solution was to combine what he did well (throw the ball) with our run game. The results were extremely positive. This was our first season as a staff at ETBU under the guidance of head coach Josh Eargle. When the season had ended, we were able to set 19 offensive school records while averaging 455 yards per game and producing an 1800 yard passer, 1,000 yard rusher and a 1,000 yard receiver while leading the American Southwest Conference in passing. The premise of this article is to talk about adapting your offensive system to play to your quarterback's strengths just as we had to this season. As you know injuries are a huge part of this game and having the ability to be flexible in your offensive system is paramount due to the possibility of injuries (especially to your trigger man). Our offense is extremely quarterback dependent and by creating opportunities for our quarterback to utilize his strengths we were able to still have success offensively amidst numerous injuries to the position.
HITCH CONCEPT
One quick game concept we utilized with our run game was a simple hitch. We combined our hitch quick passing game with our inside zone and G/H counter run game. Our quarterback goes through 3 progressions in determining where to go with the football. The quarterback will determine where we have numbers, leverage and his last resort is to run. This was a simple yet effective process for our young quarterbacks.
NUMBERS- When we talk about numbers we are talking about numbers in the box. Our definition of the box is from tackle to tackle in width and 5 yards from the line of scrimmage in depth. If our quarterback identifies we have a numbers advantage in the box then he will run the football. If the numbers are not in our favor in the box we go to the next progression.
LEVERAGE- When we talk about leverage we are talking about the alignments of both the corners and the force defenders. Once we have determined there is no numbers advantage in the box, we will determine the leverage of the corners. Is he playing soft or hard? Then we look at the leverage of the force defenders. Is he playing tight or loose to the line of scrimmage in relation to our slot?
RUN- This is by far the most important progression for our quarterbacks. If at any time our quarterback cannot get a solid read on numbers or leverage of the defense we always say when in doubt run the football.