By Sam Nichols
Managing Editor
X&O Labs
Twitter: @SNicholsXOLabs
Throughout this research process, we were fortunate enough to talk to some great coaches from all over the country. Some of those coaches were willing to give us an even closer look at how they run the no huddle. In this case, you will find the following interviews:
Pac 12 Offensive Coach: This no huddle veteran explains how his team's culture is built around their no huddle philosophy.
Phil Longo: Championship college coach explains the no huddle concepts that have made his teams successful at multiple stops.
Joe Osovet: Veteran no huddle coach explains how his system helped increase their plays per game by 15 over the course of the 2012 season.
Jason Thomas: This former Chip Kelly assistant outlines how he has taken his brand of no huddle to the high school ranks.
Brian Tabatabai: Southern California coach outlines how the no huddle changed the culture of his football team and helped them break countless records in the process.
Each coach in this section has a unique perspective that I felt would help readers better understand how the no huddle can change the way a team operates.

Using Pre-Snap Tempo to Manipulate Defenses:
An Interview With Joe Osovet, Offensive Coordinator, Nassau Community College (NY)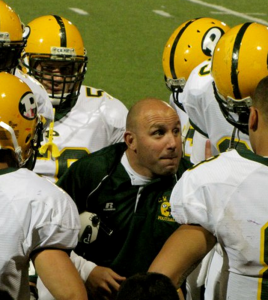 Editor's Note: Coach Osovet is serving his second stint as offensive coordinator at Nassau Community College in New York. Prior to coming back to Nassau, he served as the wide receiver coach at LIU-Post from 2010-11. This past season, Coach Osovet's offense ranked 11th nationally averaging 40.8 points per game. His team also boasted two 1,000 yard rushers and a rushing offense that ranked 6th in the nation. X&O Labs' Managing Editor Sam Nichols had the opportunity to talk with Coach Osovet about his no huddle system.
Sam Nichols (SN): Coach, thank you for taking the time to talk with us today. I know you have been successful with the no huddle for years now and we look forward to hearing some of the keys that you have found to make that happen year-to-year. So let's start with this question…why do you stick with the no huddle?
Joe Osovet (JO): I think the biggest thing as I have been at different levels, be it D2, Junior College, whatever, is that the no huddle forces the defense so show their hand. Very rarely in a game are you going to be stuck in a bad play because you have so much time at the line to make the changes. The quarterback has more time to scan the field and get you in the right play and over time those seven and eight-yard runs add up and you bust those into 50 yard explosive plays in the second half. I think those factors combined are dangerous for an offense.

SN: I agree coach. The no huddle can be hard to stop if you aren't prepared. Tempo is an important part of making that happen. Tell us how you use tempo to control the game offensively?
JO: First of all, just so you understand where we are coming from, you need to know that we are all hand signals. That said, anything that is a lot of verbiage we put it on the wrist card. We will take the card with those 10 to 12 plays and use it to keep us moving fast even if we want to run a more complicated play.
We keep it really simple with tempo. We use a snap variance cadence so predominantly have one snap count. From there, we will use a freeze cadence that gives us a chance to get out of something that we have called. That is sent in with the play as a code word. If we just want to get the defense on their heels, the center will signal to the QB he is ready by flashing his hand between his legs, the QB then says "Hut, Hut," throw his hands up, and then look back at me.
What a lot of teams have started doing is they look back to their sideline and change the play as well during that time. To counter this, we have another code word that tells our guys to fake the look to the sideline and catch them looking over for a new play. We aren't necessarily snapping the ball on one, two, or three. It is all based on the center and quarterback. The other thing we can do is use a few words to speed things up. The first word, "copy," tells the players to get lined up in the same personnel and run the exact same play. If the defense adjust to that we have code words, like "Oregon" that mean flip it too the other side. The opposite play can be made in the prior to the previous play as well. When we do this, we can get it snapped in about seven seconds, as long as refs cooperate.
In the end, we think the combination of the same play quickly, the false cadence, and the freeze or "look" cadence is all we really need to adjust the tempo. We don't have an "indy" or "nascar" call like some teams.