By Austin Embrey
Pass Game Coordinator/Wide Receivers Coach
Bixby High School (OK)
Twitter: @CoachEmbrey_
At Bixby High School, we believe that running a tempo offense gives us the best chance to put as many points on the scoreboard as possible.  We believe that the more plays we can run, the more opportunities our best players have to touch the football while forcing the defense into a more basic look. Tempo also allows us to disguise our base plays and reduce the defenses ability to recognize tendencies.  We have developed a package that allows our players to get lined up quickly and execute our favorite plays out of our most efficient formations.
We built our one-word package by dividing our favorite plays into families.  We chose to use states for our families. We named our one-word plays after college teams within those states. Conveniently, almost every college team has some sort of hand signal that their fans use.  Each STATE will tell which formation the players should line up in.  The specific COLLEGE will tell which play is to be ran out of the formation.
"Florida" Tempo Family: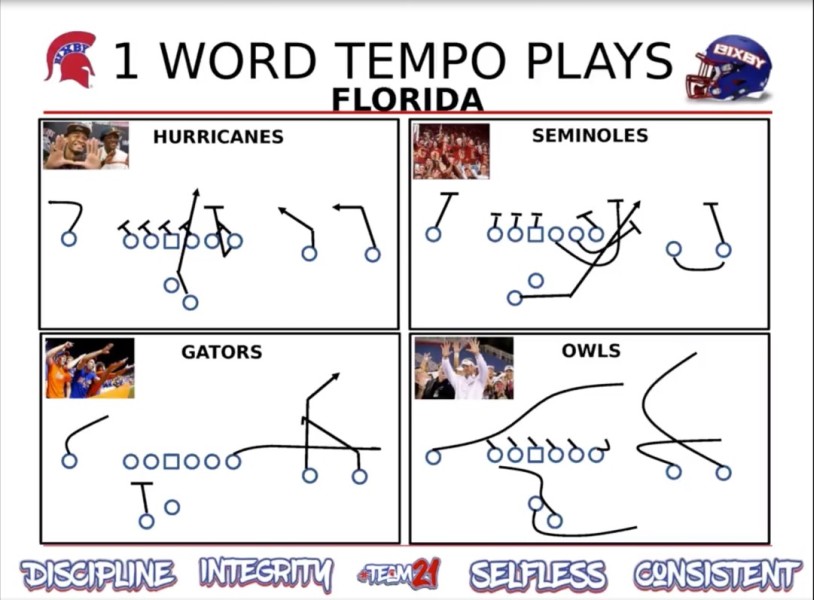 In the above diagram, we have chosen the state of "Florida" to build our first family of one-word tempo plays.  Any hand signal representing a college from the state of Texas would alert players that they should line up in the 10 personnel "trips" formation shown above, with the 3-receiver side always aligned to the field. The hand signal itself would tell the players which specific play to run out of that formation. For example, if the University of Miami's "U" is signaled, players know that they should line up in the 10 personnel trips look and run our inside zone RPO. Another example is giving the Florida Atlantic University's "Owl" signal. Since it is a Florida school, players know to line up in trips to the field and run our favorite variation of our "4-verticals" play.  In our system, the offensive line is blocking each run scheme/pass protection as if it were called into the boundary. We will never call a direction with the play. That allows the package to remain as simple as possible and enables us to use only one hand signal.