By Mike Kuchar
Senior Research Manager
X&O Labs
Twitter: @MikekKuchar
Introduction:
Fact: 81 percent of offensive coordinators have a separate plan for the red zone. What's more is 69 percent of these coaches will even vary their offensive system once they get inside the +20 yard line. In a game of situations, there is no question that efficiency in the red zone will mean the difference in wins and losses. During the course of our research on red zone efficiency, we took the responses of only those coaches who score touchdowns 75 percent or more this season in the red zone and present how they design their red zone attack, which personnel groupings and formations they use and which run/pass concept have given them the most success.
Red Zone Preparation
Football is a game of situations and perhaps no other situation is repped more than red zone offense. The majority of coaches are spending 11-15 minutes per week on practicing red zone offense (see below). While different coaches see the red zone as different landmarks on the field, we found that 59 percent of coaches consider the +20 yard line to the end zone to be the red zone (see below). So in an effort to make things more universal, we will use this landmark. In most situations, it is in that area of the field where offenses will start to alter their approach. Ask most defensive coordinators and they will tell you the "red zone" begins when an offense changes its play packages. We found this characteristic to be evident among offensive coaches. In fact, 69 percent of coaches say they will vary their offensive philosophy at least slightly upon entering the red zone. We wanted to research how more successful coaches are altering their game plan to be efficient in this area. So, we surveyed only those coaches who score touchdowns on at least 75 percent of red zone situations to see what they were doing differently. We found that because the field shrinks in that area, offenses are being uber aggressive in their play calling by mixing their base runs with complementary play action passing. Below are some of their responses.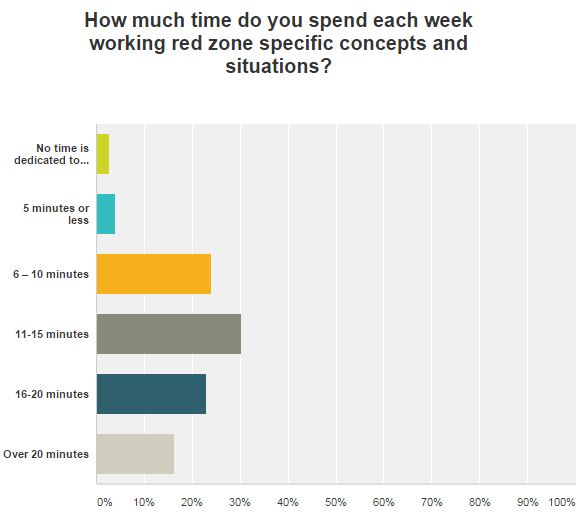 Phil Holmes, Oakmont High School: "You're working with a condensed field. So, we have a special package of plays that differ in both personnel and scheme from our base offense. For instance, we're largely a no-huddle, shotgun spread team (10 and 11 personnel), but we will go with heavy personnel groups (23 and 31 personnel) as we enter the Black Zone (inside 10 yds.). This enables us to bring in bigger bodies to help us in our power run game but, it also allows us to isolate our best receiver in a one-on-one match-up in the pass game."
Will Lobendahn, Radford High School (HI): "It's less field for the defense to cover. They are able to fill the box and for that main reason is why we bring either two true tight ends or other linemen to give the defense extra gaps to defend which gives us the opportunity to expose a weak point in the defense and attack that with double teams and or bringing extra blockers to a side."
Travis Carswell, Miles College: "My approach is two fold: one we want to disguise our base run plays with play-action passing game. Secondly, we teach our guys that this is '5th down-territory' so play calling gets very aggressive in this area."
Bill DeFillippo, Livonia Churchill High School (MI): "We will utilize more runs to attack added pressure and blitz schemes. We do use a specific package of red zone routes in different areas of the red zone by field position. This has helped us tremendously with the vertical length of the field shrinking."
Jim Glover, Jackson North Side High School: "The vertical depth of the field has changed significantly and we are expecting more blitz and zero coverage. We will use more motion and crossing patterns to take advantage of man coverage. We will also go to more compressed sets to increase the horizontal aspect of the field."
James Stubkjaer, Sioux Falls Roosevelt High School (SD): "Most defenses play cover 0 in the red zone. That being said, we really like aspects of our offense that is formation driven, and what that gives us based on how defenses are playing us. For example, we like to go shotgun, one back, and run speed option in our run game. We also like to go in empty formations which allows us to run 'pick' routes, or our QB can use his ability to make plays."
Joe Osovet, Nassau Community College (NY): "My red zone is not to have any TFL's or sacks. We already have three points. We will run the ball down hill and throw our quick game. Once we hit the green zone (+14 to GL) everything is in play as far as play calling goes. I will take some chances and be creative with unbalanced or exotic formations. Let me clarify one important point. Your red zone & green zone changes every year and is predicated on where your kicker is 'money' from. This year our kicker was automatic from about 42 yards so our red zone was from the +30 in."
Paul Bernstorf, St. Paul's School (MN): "In the Red Zone we expect more blitz and pressure defenses so our pass patterns involve more rubs down in the red zone. We expect the defense to be more aggressive so often our QB will pull the ball more on Zone Read down here because the defense is pinching in on the RB."