By Jacob Knight
Offensive Line Coach/Co-Offensive Coordinator
Waverly High School (OH)
Twitter: @CoachKnight55
As an offense, we put great emphasis and stress on how we attack in the red zone. What we try to do each week is establish efficient, and effective concepts that we know we can attack with once entering the red zone. In our 4 years at Waverly, we have learned a lot about ourselves as a red zone team. We have shown considerable growth in this area over our 4 years at Waverly High School. in 2015 we were a 60% score and 53% touch down. In 2016 this number went to 79% TD, and score, and in 2017 we were 82% score and 79% TD. Our most efficient season came in 2018 we were 95% score and 87% TD. I am firm believer our game planning, and practice process has lead to this. We changed this process prior to 2016, and it leads to a huge increase, and we have seen it slowly get better every season since.
General Philosophy
Once we enter the red zone the first thing that enters my mind is that we want to take a shot and try to score from the RZ/Fringe area. Once we enter the fringe area I am a huge fan of taking a shot. We are either going to throw some form of play action, or vertical shot so that we can score, prior to entering the 5 to GL area. This area for a spread team is extremely difficult, and the field becomes so compressed (we learned this the hard way in 2015). We also really like to establish our best runs once getting into the red zone, this has created running opportunities for us. We are a pretty run heavy Red Zone team (56% run) So when we game plan our runs we decide what is going to be our best weekly run, and this a run we try to run once getting in the red zone, this has worked very well for us the last two seasons, and has allowed us to dress these runs up with motion, or with unbalanced formations once entering the red zone.
Game Planning Process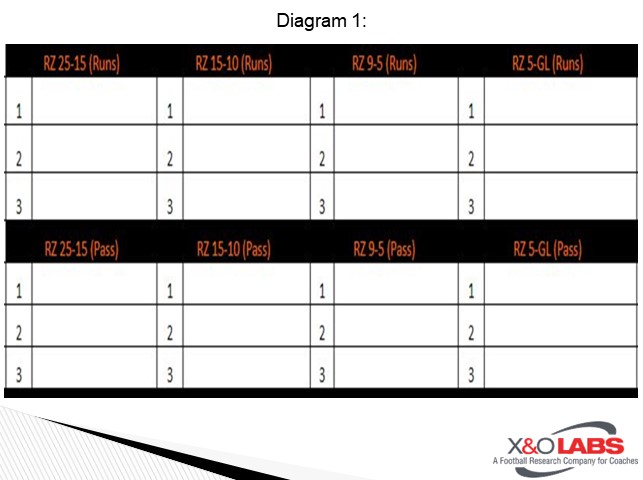 Above is the part of our game planning board that we use to game plan, and script our Red Zone Plays. This board has become extremely helpful to us over the last three seasons, it is a great way for us to collect our thoughts, and decide how we want to attack our opponent.
Creating Opportunities for the Split End
Within our game planning process, the number one thing we try to decide during our game plan meeting is whom can we attack once we enter the Red Zone. We also try to decide what runs we want to use, and how we want to attach RPOs to our run game to create mismatches. The first thing we always try to do in the game planning process is we try to create matchups for our receivers, and we do that a couple different ways, the first is we want to move our outside receivers around (X/Z). Typically, in our offense, the X plays to the left, and the Z to the right, so what we like to do is run formations that move our X, or our Z. Typically our Z is the "Dude" in our offense, so we want to game plan 2 to 3 ways to get this player open, as well as 2 to 3 ways to draw the defense to him to open other players up. This could be we move him to run a slot fade concept, or we may motion him to either open up a run concept or to open one of our other receivers up in the passing game. We also will use stacks in order to create rubs in short-yardage and goal-line situations.