Report #6:
Practice Planning 3rd Down:
Practice Your Offensive Situational Drills With Intent and Purpose
By Steve Axman, Contributing Editor, X&O Labs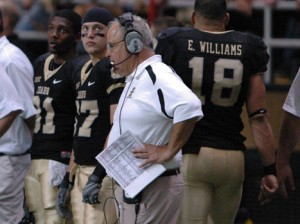 If you believe that 3rd down offense is one of the most critical game situations your offense will face during the course of a game, then your offense must be fully made to understand the importance of this thinking. The thinking strongly goes along with the belief that you get what you emphasize. When we game plan, we start our game planning with the idea of starting with, what we believe, are the three most important facets of offensive play…..Base offense, Red Zone offense (which includes Goal Line offense) and 3rd down offense. We practice our 3rd down offense on Tuesdays, the first of our two heavy practice days (for a Saturday game). A major reason that we practice 3rd down offense on Tuesday is so that we will have two heavy practice days to practice against the blitz. Even if an opposing team's defense is not a heavy blitz team, we must be sure that we are definitely ready to pick-up whatever blitzes we feel our opponents have shown. This goes along with a firm belief that you must be able to beat the blitz to win.
When using a walk-through practice will be sure to focus on any new patterns or routes that you intended to install for that particular game. During the same walk-through period, the linemen and, possibly, the backs are able to begin practice work on blitz pick-up needs. However, we must believe, very early in our practice week's efforts, that our staff is very confident in anything new that we are installing.Our individual practice periods allow us to focus on the practice and coaching of our Base and 3rd down pass patterns and routes.
Once we get to our unit practice drills, our 7-on-7 Pass Skeleton Drill, it's a rapid-fire alternating the first and second offense so that each group gets equal repetitions. If this is for a twenty minute period, we will script for 32 plays (sixteen plays each for the first and second teams) being sure to move the football's placement from hash to midfield to hash. We will then allot a specific number of repetitions for 3rd and Medium, Medium/Long, Long, and Long/Long. A team could include 3rd and short in that practice order. However, since so much of our 3rd down pass game may be tied up into heavy formation with two tight ends and possible extra backs, we will normally practice that in a combined 3rd and Short full team practice period. If a Spread formation team is big on passing on 3rd and Short, then such practice repetitions should be included in the 3rd down, 7-on-7 Pass Skeleton Drill.