By Steve Axman
Contributing Editor
X&O Labs
Introduction: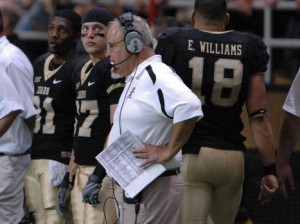 The more I coach, the more I have come to believe that there are some very important game situational keys, or concepts, to winning or losing football games from an offensive standpoint. Most, or many, of these keys become the important goals that you put on your weekly goal board for all of your players to see. Meet a solid majority of those goals and you help to give your team a tremendous opportunity to win. Some of theses goals could include scoring in the Red Zone, scoring on the Goal Line, converting your 3rd Down situations, and succeeding on your Coming Out offense when backed up on your own one or two-yard line. Other scenarios could include being productive with your Two-Minute offense and running the clock down to zero in the fourth quarter with your "Slow-Slow" offense and "Kill-The-Clock" offense and desperation offense are, definitely other keys that vitally need specific game planning and practice attention.
Over the years, the one game situational key that I have increasingly come to believe that has much more importance, in its ability to help its team win games is the successful execution of 3rd down. A major reason for this is that 3rd down offense is such a big part of the other, vital, key game situations. It's hard to succeed in the Red Zone, on the Goal Line or when using your Two-Minute offense if you're not successful with your 3rd down offense.
Having said that, 3rd down offensive success is not easy chore. In 2011, Wisconsin led the country in 3rd down efficiency with a 54.7 conversion percentage. That means the best offensive 3rd down conversion team in the country didn't convert their 3rd down situations 45.3% of the time! Of the 120 Division 1A football programs in the country, only 7 had a 50% or more 3rd down conversion success rate percentage which means 113 FBS football teams had 3rd down conversion percentages of less than 50%. The bottom line is that, on offense; converting 3rd down situations is hard….very hard!
Having your offense trot off the field in a disparaging manner after a failed 3rd down conversion attempt is extremely disconcerting to a team's positive momentum, energy and exuberance. What's even worse is a failed 3rd down conversion as part of a three and out offensive series. Your defense is now quickly back on the field after just helping to give the offense possession of the football. Failing to convert on 3rd down can easily be a major reason that a team may win, or lose, a football game. Conversely, successfully converting a 3rd down attempt, resulting in that all-invigorating "….moving of the chains…" allows the offense to aggressively and confidently feel in command of their play.
Developing a 3rd Down Play-Call Attack
Successful 3rd down offensive starts with focused, detailed planning. After a season and a detailed video breakdown study of our offense, we will then create mini, situational game plans for every part of our offense versus "….the world." By "the world," we mean a general, yet tight, listing of the play calls we feel confident are sound calls in our offense for our situational needs versus the basic defenses we will see during the course of a season. As a result, we will come up with mini, 3rd down game plans for the following situations: