By Drew Owens
Offensive Coordinator/Offensive Line
Western Connecticut State University
Twitter: @ballcoachDRO
Introduction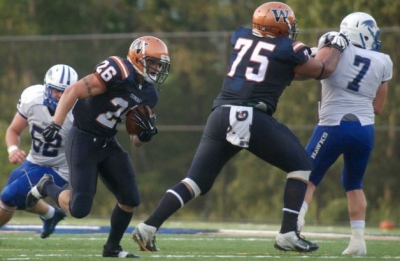 Fellow coaches always ask, "What type of offense do you run at Western Connecticut?"
For some reason, I always struggle to answer this question. I hate saying we are a spread team because I associate that word with finesse and pass first. We are by no-means a finesse football team, we stress running the football using zone and gaps schemes with option and we are not an exclusive 10 personnel team.
When I really break it down, the main thrust of our offense at WCSU is to cause defensive coaches headaches. We are always thinking, "what can we do to make defensive coordinators feel uncomfortable?"
This perspective is undoubtedly rooted in the coaching experience of our Head Coach Joe Loth who coaches the quarterbacks in our offense. As a previous defensive coordinator and secondary coach, he provides us with a unique perspective and helps us focus on doing the things that defensive coaches hate to coach against.
It should be noted that we don't do this to be a nuisance; instead we focus on making defenses uncomfortable because we know that it will help us do what we want to do. In other words, we do it to ensure that we can run the football and get the defense to stick to its base. Those two goals are the focus of our game planning every week.
What Do Defenses Hate?
When we ask defensive coordinators what they hate to see, we usually get the following responses…

Multiple formations out of multiple personnel groupings

Motions, shifts, and trades

Unbalanced formations including FSL 4x1 and 5x0 formations

Option
Every week at WCSU, we want DCs to have to prepare for all of those things. Some of the plays are repeated week to week, others are used for only one game. We philosophically "wipe the board clean" from week to week. Weekly, we always want to take what is given, not force plays that worked the week before. Hopefully, while game planning to play WCSU, the opposing defensive coordinator will get frustrated, erase the board, and say, "we just need to play base."
Of the list of things that defenses hate above, we have found motions, shifts, and trades to be essential to getting a defense into base. Each of these pre-snap movements has their own advantages and when they are combined they have real potential to create havoc.
We rely heavily of motions, shifts and trades because the force the defense to:
To be sound versus movement pre-snap

To play more Base

To be sound in man coverage responsibilities

Change formation and strength calls quickly

Roll the dice when calling a pressure

To simulate motions/trades/shifts w/ scout team players
Ultimately, we feel it creates "one more thing" defenses have to work on during the week. They must have a plan. We can also move players to create matchup scenarios, preferential to the offense.