By Mike Kuchar
Senior Research Manager
X&O Labs
Twitter: @MikekKuchar
Special Reporting by Adam Hovorka, X&O Labs Contributing Writer
Introduction
One of the more telling cues in preparing for an RPO offense is where it places its offset back in shotgun formations. In most cases, the placement of the back will predicate the side of the run/pass option concept. So, in turn defenses are finding ways to use combination coverages or man coverages to eliminate any potential conflict defenders to the side of the back. This is why it's important now for offensive coordinators to design their RPO's out of Pistol formations so defenses cannot get a tell on which side the RPO is being activated. One would assume that because of this tendency most if not all OC's would be transitioning into using the Pistol for all of its RPO's. Yet, according to our research, of the 61 percent of coaches utilize RPO's from Pistol formations only 21 percent of coaches use the Pistol on more than 50 percent of snaps.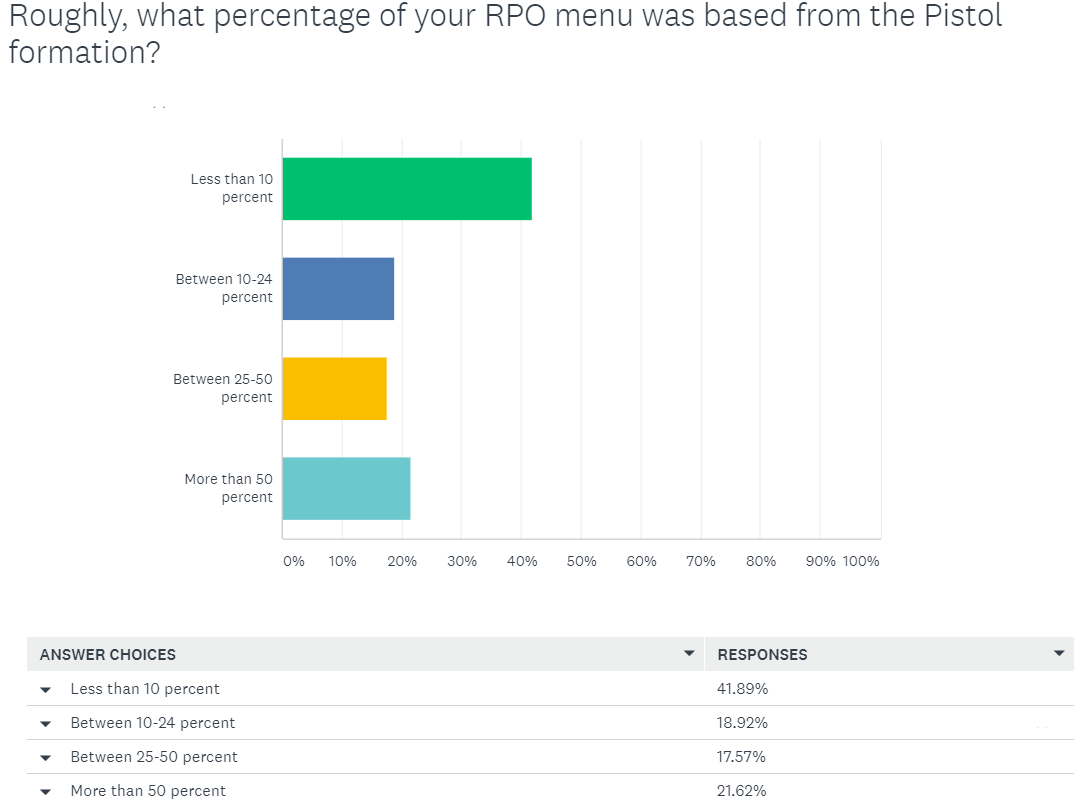 The coaches that contributed to our study cited the following advantages for utilizing their RPO's from the Pistol formation.
Benefits of Using RPO's from Pistol Formations
It creates balance issues for the defense- without a pre-determined strength of formation; they were left to guess for shades and stunts. If the ball were in the middle of the field, it would cause automatic field defense strength.

It forces defenses to balance up and play head up defensive linemen, which is something they are not used to doing.

The depth of the running back often froze linebackers from making the correct run fits.

It helped disguise the side of read in the RPO game.

It allows offensive coordinators to vary the side of the read in the RPO game.

It provides cleaner reads on the second level with more downhill flow from linebackers.

It allowed the QB to keep his eyes on his secondary read while having his shoulders/feet pointed in the direction that he was going to throw.

It allows the QB to choose the side he'd like to open up to and read pre-snap, which could be based off the tightest apex defender. This could actually be done by having the QB hold his hands behind his back and signal to the RB which way he was going to open for the mesh.
Productivity
It's difficult to argue with the productivity that the coaches we sourced are having with the Pistol RPO game. Consider the following numbers:
Eric Struck, offensive coordinator, Sioux Falls High School (SD)
Pistol Free Access Throws:
7/8=87.5% for 41 yds. and 4 TD's; 0 interceptions
Pistol Bubble Constraints:
6/7= 85.7% 83 yards and 1 TD; 0 Interceptions
Pistol Inside Zone/1 Back Power:
67 carries for 519 yds. 7.74 yards per carry. 6 TD's
Matt Mishler, offensive coordinator, Rolling Meadows High School (IL)