By Reid Stapp
Defensive Coordinator
Nutley High School (NJ)
Introduction: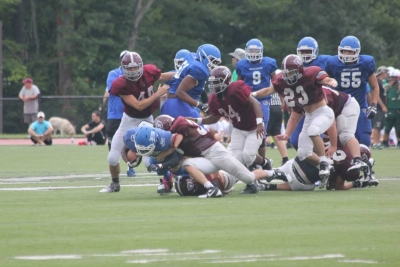 In this day in age, offenses try to get as many talented and fast athletes on the field as possible. It is my belief that in order to keep pace with these offenses, the defenses must have just as many fast athletes on the field. Our 3-4 defense allows us to do just that while we rely heavily on disguising blitzes to attack protections and complicate the QB's pre-snap read.
Base 3-4 Alignment & Scheme
In our base alignment, we play with the strong side DE in a 4i technique, the weak side DE is in a 5 technique, and our nose is in a 0 technique. We like putting the weak side DE is in a 5 technique because he is more of a pure pass rusher in our system. He is a kid that can get up the field and speed rush the tackle.
The inside linebackers, Mike and Will, are both in 20 techniques while the outside linebackers are both splitting the difference between the tackle and the #2 receiver to their side (in 2x2; 10 personnel). The corners are aligned on the outside shoulder of the #1 receiver on a 45 degree angle. Lastly, the Raider and Safety are both aligned at 10 yards from the ball, but 2 yards outside the tackles.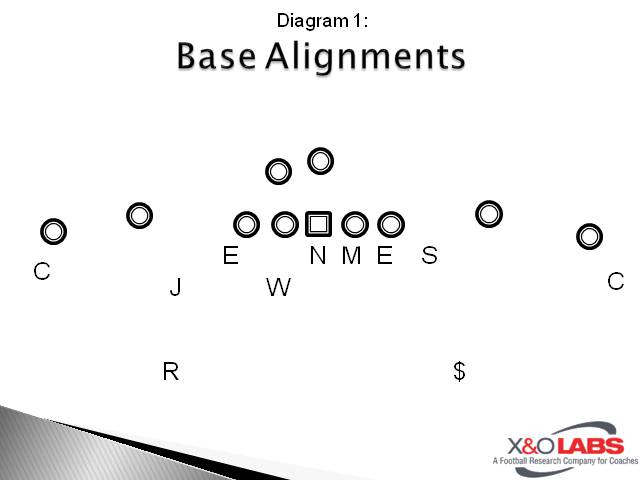 3-4 Advantages
The real advantage of this system / alignment is that this past year we were able to get 10 true athletes on the field all at once. The speed and quickness that they were able to play with was a major advantage. We come from every angle and are very aggressive. From that base, we were able to blitz at least one second level player on every play if not more and they were able to use their athleticism to make plays.
The results speak for themselves. In 2014, we had 28 sacks in 10 games, but more importantly, 11 different players register at least a ½ a sack over that time period. Our biggest ally was disguising where our blitzes and coverage to keep the offense guessing. We can run eight different blitzes from the same pre-snap look. This, in turn, allowed us to game plan for a variety of 2 on 1 matchups with offensive linemen and forced the running backs to get involved in pass protection.
Defensive Philosophy
Before I get into the x's and o's of how we disguised our blitzes, here are a few more parameters of our defense that can provide some more background into how things operate.
Everything we do is out of a Cover 2 shell. We preach to our kids to hold that shell as long as possible before the safeties rotate.

The corners must be in our Cover 2 press technique. If the corners are off in Cover 3 technique then the 2 shell by the safeties doesn't really matter. Our corners will creep back as safeties begin to rotate.

The linebackers must be active pre-snap. Our linebackers are moving constantly, creeping up or lining up on the line and bailing at the snap. This constant movement happens while they are reading their keys.

Communication is essential. We have calls that the linebackers must make to their partner on the defensive line. These calls must be understood in order to maintain gap responsibility and to keep the offense guessing. We make the call so that the defensive lineman or linebacker could go either way on any given play. A simple "in or out" goes a long way.

There is no substitute for speed. There is also a limit on how fast an offensive lineman, quarterback or running back can react. For that reason, we stress to our linebackers that anytime they are blitzing it must be at full speed and to the depth of the football. We blitz with our eyes!

In order to help the blitz, we must take away throwing lanes. The biggest part of our pass defense is reading receivers. Anyone that is not blitzing is getting eyes to their receiver first. We read the path of the receiver in order to get in the throwing lanes and force the quarterback to hold the ball, throw an INT or alter his release.
"SLAM" Blitzes