By Mike Kuchar
Senior Research Manager
X&O Labs
Twitter: @MikekKuchar
As the University of Louisiana rolls into its first off-season under head coach Billy Napier, there are many positives to build off of. The Ragin Cajuns played for the Sun Belt championship, eventually losing to nationally ranked Appalachian State, earned its first bowl bid since 2016 and eclipsed its first seven win season since 2014. So as the 2019 season approaches, the defensive staff under the direction of defensive coordinator Ron Roberts will continue to hone in on what got them to this point. And, according to Coach Roberts, much of their defensive success is credited to building a simulated pressure package that he calls "replace" blitzes. It's a name patterned from Coach Roberts former defensive coordinator Dave Aranda, who constructed this system while both were together at Delta State University. These are four-man rushes that attack an aspect of the protection or blocking scheme by overloading that particular player or side. This part of it is no different than any other pressure package. But, the difference in replace pressures is that by only sending four in the rush (and not five), coverage isn't compromised like a traditional fire zone.
"Blitz used to mean playing zero coverage and getting one guy free on the back," Coach Aranda told us. "There is an attacking mindset there with those kinds of pressures. You may get a guy that beats a guy but the other five guys are preoccupied with blockers. So, the next progression was to bring an overload of four on one side and two on other side, but the disguise element is gone. It's difficult to get those guys over to their coverage responsibility. It didn't seem like it was sound against pass. This pressure package helped alleviate that issue.
When you're bringing these pressures and playing the appropriate zone there is a pinpoint accuracy because you're attacking the protection. I would compare a carpet bomb to a laser guided missile. The issue with the laser guided missile at times when you're trying to disrupt the run game or stress a protection you're trying to get it specific so you're keeping that blitz mentality."
According to Coach Aranda, the allusion of pressure can deter quarterbacks, even in the SEC. "There is a fair number of quarterbacks in this league where their eyes will come down when they see pressure," said Coach Aranda. "The aspect of simulated pressure and the presentation of a single high look where you can roll to quarter, quarter half and still bring pressure and attack the protection makes the quarterback sense it."
The replace pressure system that Coach Roberts and Coach Aranda developed was then advanced further at the University of Texas-San Antonio where, under the direction of defensive coordinator Pete Golding (who served at Southeastern Louisiana under Coach Roberts) the Roadrunners finished in the top ten nationally in scoring defense, yielding 17 points per game. The success of the scheme propelled Coach Golding into the co-defensive coordinator position at the University of Alabama where he remains today. And as Coach Aranda, now the defensive coordinator at LSU, enters his fifth season as a defensive coordinator at a Power 5 program, his defenses have ranked in the top 12 nationally in total yards for five consecutive years. His defenses have also ranked among the top 10 in scoring four of the past six years. In that 6-year span, Aranda's defense has allowed a touchdown or less in 41-of-78 games, which includes three years at Wisconsin, two at LSU, and one at Utah State.
So, it's no secret that the proficiency of these schemes had a lot to do with the success of all three of these coaches. In 2014, Southeastern Louisiana University under the direction of Coach Roberts finished second in the nation with 21 interceptions, eight of which came from line of scrimmage droppers in replace blitzes and in this past season Louisiana registered 28 total sacks on the season, more than half coming off replace blitz concepts. "It's the best thing we do," Coach Roberts told us. "You're doing more with less."
Distinction Between Fire Zones and "Replace" Pressures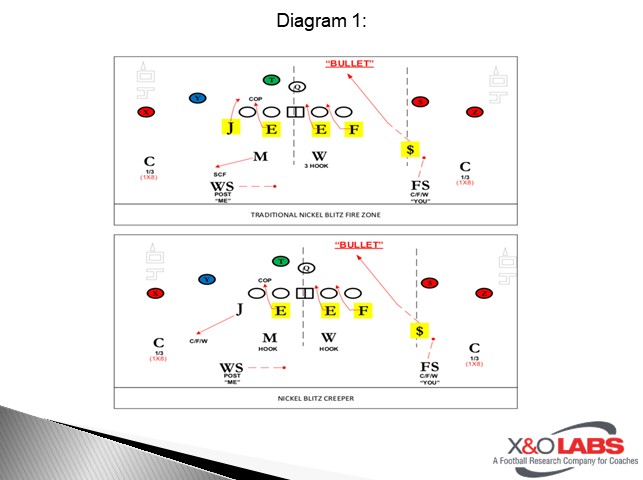 Why these are labeled replace pressures is because a defense is replacing a "rusher" with a dropper. In most fire zone pressures, where a defense rushes five defenders, a zone is voided by the number of defenders in a rush pattern. The three under, three deep coverage structure in fire zone schemes are a little easier to be detected, and thus, taken advantage of by an opposing quarterback. It was an issue that the University of Louisiana safeties coach Patrick Toney discovered when working through the Cajuns pressure system this off-season, his first into the program. Coach Toney, a former high school coach, realized there were some talent discrepancies in his secondary which may not allow him to play the man coverage concept of three under, three deep and as a result had to find another way to hold up on the back end. He noticed that the best quarterbacks can easily detect fire zones and throw away from pressure. "Most talented and well coached quarterbacks are good enough to take advantage of the weaknesses of fire-zone coverage," said Coach Toney. "But if your skill doesn't match theirs, how do you pressure the quarterback when your front four can't? We had to find a better option to get to the quarterback another way."
So, replace pressure patterns have become the answer. While fire zones are built more like pattern match or man principles, replace coverages are true zones. Defenders will spot drop with all eyes on the QB. And instead of rushing five defenders, a defense can rush four. It looks like a fire zone concept to the offense, but the defense is playing the same zone coverage principles (usually three deep four under, or two deep, five under) as it does when playing base defense. "The same (protection) issues you cause with a three deep, three under zone pressure, you can create with a replace blitz but you don't void a zone," said Coach Toney. "And you get the same two on one or one on (usually on a back) that you would in a normal fire zone pressure. It's a great equalizer for us if we are outmatched."