By Mike Kuchar with Ron Roberts
Defensive Coordinator
Baylor University (TX)
Twitter: @CoachRonRoberts
During the Covid shortened 2020 season, Ron Roberts spent much of his time researching how he can continually tweak the extensive creeper system he brought with him from Louisiana. While single high pressures were sound against the run, it left vertical seam routes vulnerable- despite closing the middle post with the backside safety (check our original report in 2019). So, his goal was to build in more two-high looks that can be used situational on third down and could combat his tendency of playing pure man coverage in these situations.  So, he emerged from the lab with what he termed "Tampa creepers," a three-high coverage pressure that combined four underneath defenders and a simulated rush upfront. With a couple of easy checks, it looks like four pressures but it's only one.
He liked them so much that he used them on nearly tktk percent of second and long and third downs. It was effective in leveraging vertical routes and forcing the ball underneath where defenders can rally and make plays. The philosophy was that the generated simulated pressure would get the ball to come out faster and force the quarterback to check the ball down. And if you watched them play Oklahoma and Oklahoma State this season, that's exactly what happened. "I'm not going to call it on 2nd and 3 unless I give you a knuckleball or you're trying to pick us," he told me. "I'm calling it on 2nd and long or 3rd and long. Or, when teams are trying to get the back out fast and we have leverage to the flat (with the corner).  We want to hit it and make the ball come out quickly so we can tackle it and get off the field."
Pressure Patterns:
In its simplest form, there are four main pressure patterns in this package, although I'll tell you Coach Roberts has been continually tweaking them to find alternative middle runners. Essentially, he classifies the coverage defenders as the following (more on the technique later in the report):
Cloud Corners (2)- responsible for flat
Hash Droppers (2)- responsible for #2 in the seam
Middle Dropper (1)- post defender
High Safety (2)
As of now, these are the Tampa creepers Coach Roberts is using:
Middle Pressure (Mike or Will):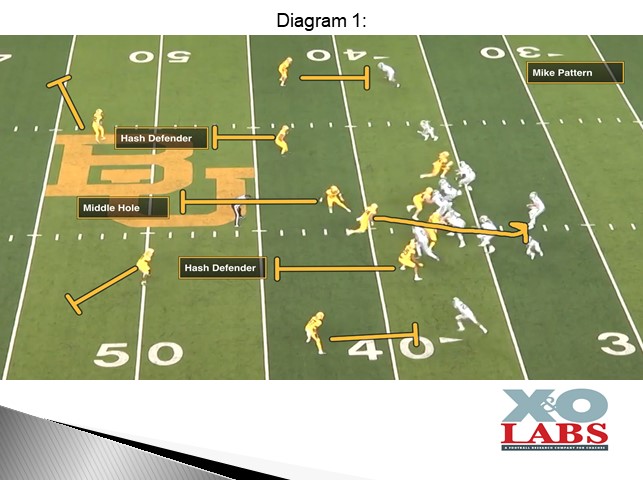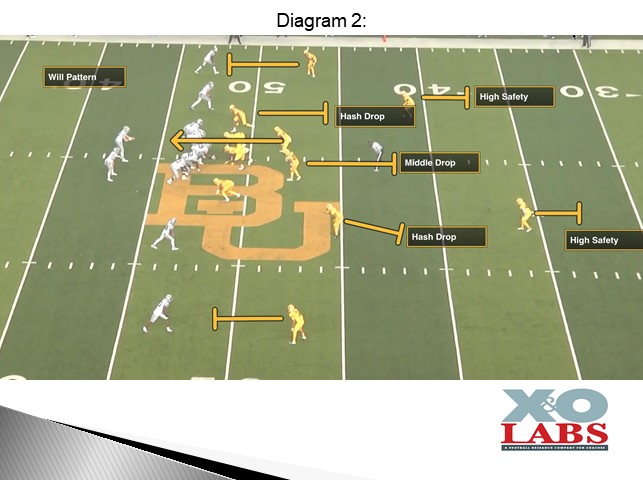 Corners are flat defenders
FS/WS are high safeties
Star (Nickel) and Jack (boundary DE) are hash droppers
Mike or Will is the middle hole defender
As explained later in the report, both of these two pressures are "checked" pressure based on one specific variable. The Will can even walk up on the line of scrimmage and play the same responsibility based on the call. Coach Roberts calls that a "loaded" front. See the diagram below: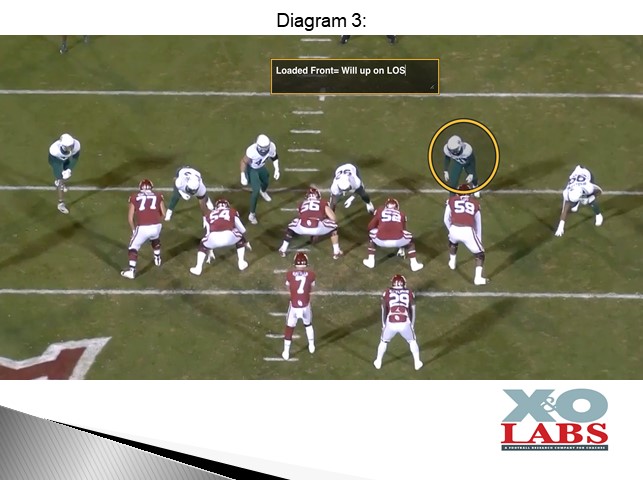 Nickel (Star) Pressure: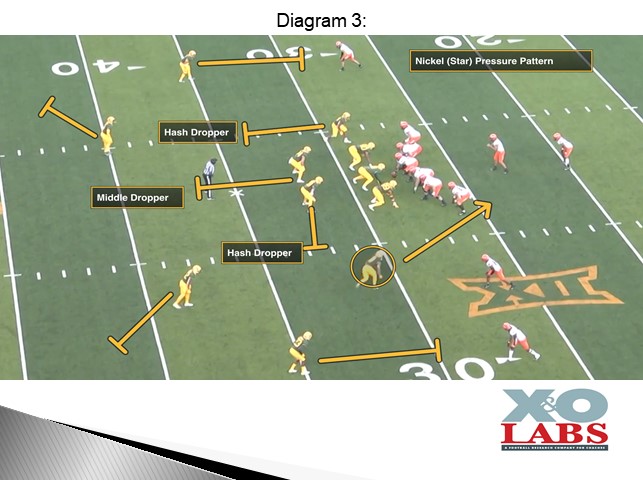 Corners are flat defenders
FS/WS are high safeties
Mike and Jack (boundary DE) are hash droppers
Will is middle hole defender
Double Edge Pressure (out of Dime Personnel):
Corners are flat defenders
FS/WS are high safeties
Mike is middle hole defender
Will and Boundary end are hash droppers.
Call System:
Even though the patterns seem simple, there needs to be streamlined communication to alert players on who the middle runner is. Coach Roberts will use the following four protocols in calling these pressures:
Field Pressure- this would be the Nickel (or Star) pressure to the field
Boundary Pressure- this would be the Will pressure to the boundary
Passing strength pressure- this will usually be the Mike off the edge to the field
Point Pressure: this is checked pressure specific to the protection scheme
While I will not use Coach Robert's terminology, it's important to group these pressures in relative families. But you need to distinguish calls based on who the middle runner is. For example, if using "New York" as your base Tampa coverage variant, consider the following verbiages as changeups below:
"Mets"- Anytime where the Mike or Will (M term) is the middle runner. The opposite player is the pressure defender. The front is called.
"Yankees"- Anytime where the Free Safety is the middle runner. The front is called.
"Mug Mets/Yankees"- Tells the Mike or Will to walk up on the line of scrimmage.
Baseball teams can be your creeper pressures, while football teams, such as "Giants" and "Jets" can be base Tampa coverage with traditional four-down rush patterns.
The rest of this report focuses solely on how Coach Roberts can build these Tampa Creepers in to affect protection, including the built-in checks he uses that alter these pressure patterns.