By Mike Kuchar with Cherokee Valeria
Defensive Passing Game Coordinator
Sacramento State University (CA)
When the single high simulated pressure trend swept through football a couple seasons ago, playing country cover three behind it was all the rage. Most coordinators used them in long yardage scenarios, so having the weak safety defend hook zone provided able support against intermediate routes like digs and seam routes that would settle at the sticks.
While defenses are still playing single high on the back end, now staffs are finding ways to build their sims around three-safety structure so that hot coverage defenders can come from depth.  The defensive staff at Sacramento State University will use 3-high simulations- or as they call "Bogus" pressures- with squat, or three roll coverage to get a player immediately in the hot window of the pressure. According to defensive pass game coordinator Cherokee Valeria, it's easier to play that responsibility from outside in positioning (with a corner) than inside out positioning with a safety. "We like squat coverage because the ball has to come out quickly to the field and we want to be able to react back down and play those routes more quickly," he told me. "The hardest thing to deal with in these pressures are inside breaking routes so it's easier to play low to high than high to low."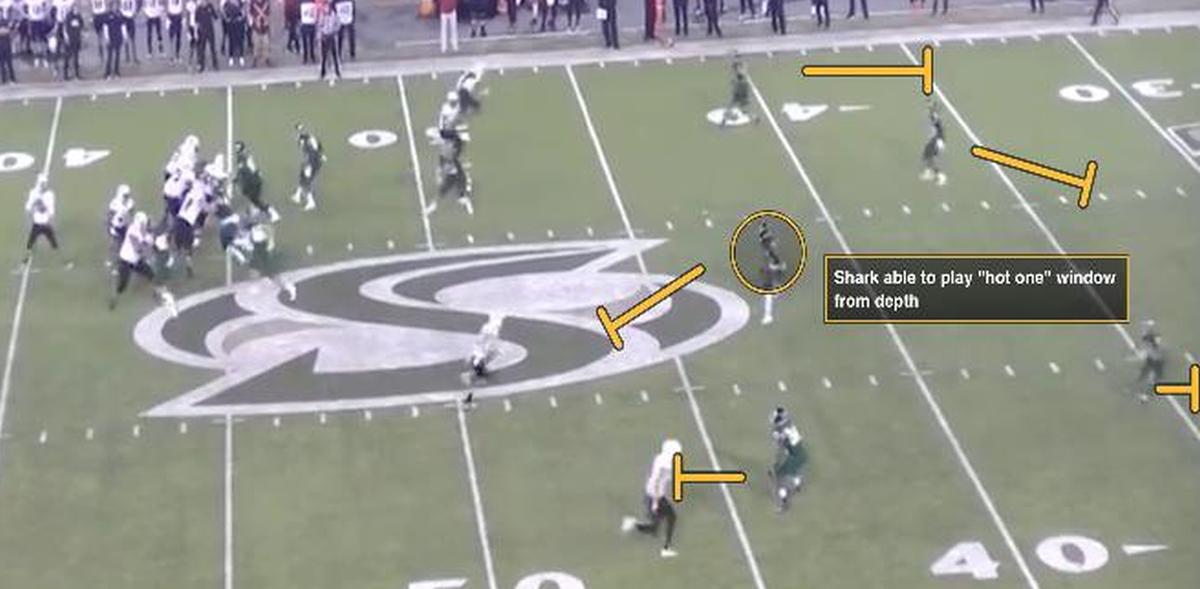 In its 3-high spacing the Hornets will routinely insert the middle of field safety (the Shark in their terminology) in these replace rushes. In this report we're going to detail the two most common they use- the boundary corner pressure which is termed "Combat" and the field Nickle pressure which is termed "Normandy." Together they make up 25% of all calls in the Hornets sub package, or what they call "SWAT" personnel. Although it was mainly used in long yardage scenarios, it was also implemented as a changeup in base early downs.
"SWAT" Personnel:
The Hornets "SWAT" personnel consist of the following:
1 Interior Defensive Lineman (could be a true Nose or 3-Technique Tackle)
2 Drop Ends- hybrid edge rushers or outside linebackers
Mike linebacker- Strong side linebacker
Sam linebacker- Weak side linebacker
Nickel linebacker- can be safety type or extra cornerback
Free Safety- Boundary Safety
Strong Safety- Field Safety
"Shark" Safety- Middle safety which can be an extra corner or safety
Field Cornerback
Boundary Cornerback