Cancelling Gaps in the Run Game
Editor's Note: The following article was submitted by Andy Guyon, the defensive coordinator at Xavier High School in Middletown, Connecticut. As of November 14, 2011, Xavier High School is 9-0 and ranked no. 1 in Connecticut.
By Andy Guyon Defensive Coordinator Xavier High School (CT)
Despite the constant evolution of various styles of offenses, there is one constant and that is the importance of an effective running game. Which is why defensively, there is nothing more important than stopping the run. Spread offenses have made it difficult to defend the entire field and still be able to lock the run game up. Those spread option offenses force defenses to stay gap and responsibility sound. For that reason, we base our defense out of a 3-3-5 alignment. We play with a nose, two defensive ends, a Sam, Mike and Will linebacker, two corners, a Rover and both a free and strong safety (diagram 1). We play this front at Xavier because are able to find more of the linebacker/defensive back type players than defensive linemen. This defense also allows us to be flexible and adjust easily to any formation we see. Since we starting using this front, we've won two Division Championships, make two playoff appearances, and win a state championship. During the 2010 season, we gave up 8.9 points per game including holding three teams who averaged over 31 points per game to an average of 11 points. Our defensive team statistics were solid. We had 62 tackles for loss, 26 interceptions, 56 pass break ups, 10 fumbles recovered, and 40 sacks – all in a 13 game season. The most important statistic that led to all of this was our rushing defense that yielded an average of only 46.7 yards per game. This included two games in which we held our opponents to negative yards rushing.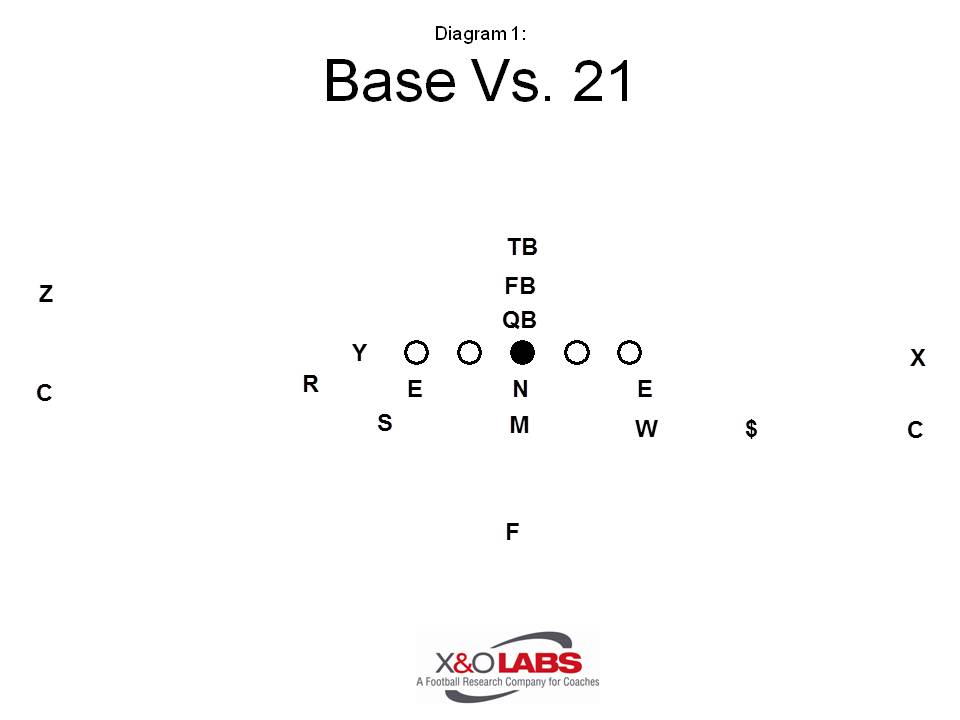 We achieved that success because we mixed our front movements with zone and man to man pressures. Our most productive man to man blitz in run situations is called THUNDER. This is a blitz we use when the run/pass ratio is better than 65/35 (run to pass). Our players have belief in this pressure; it is the first one installed in spring practice and training camp. It acts as our base defense and allows us to line up quickly because of the way we set our front. We are a field and boundary team, meaning we have set our strength to the field or to the two quick receiver side (diagram 2). The only people who do not move are our defensive linemen. Our five technique defensive ends play to the left and right side.