By Pete DeWeese (X&O Labs)
Featuring Mike Fox
Defensive Coordinator
College of Brockport (NY)
Twitter: @coachmfox1
After back-to-back seasons of finishing 5-5, College of Brockport Head Coach Jason Mangone needed to improve his staff. In 2016 he brought Mike Fox to coordinate the Golden Eagle Defense. After eight seasons as the DC at St. John Fisher College, Coach Fox came to Brockport with an aggressive style that would change the way that Brockport played defense. In his first season as the defensive coordinator, Coach Fox and the Brockport defense ranked 3rd in the nation with six defensive touchdowns while averaging over two sacks a game. The 2017 season proved to be the best in program history, with the Golden Eagles going 13-1 behind a strong offense and great defense. In 2018, Coach Fox's third season in Brockport, the Golden Eagle defense relied on pressure to post some of the best numbers in Division 3 football. Coach Fox's defense led the nation in rushing defense (6.8 yards per game), 3rd Down Defense (15% success rate), and 4th Down Defense (14% success rate) while finishing in the top 5 statistically in Total Defense, Red Zone Efficiency, Pass Efficiency Defense, Sacks, and Interceptions.
Coach Fox and his defensive staff believe in an attacking style. To borrow from the University of Michigan Defensive Coordinator Don Brown, Coach Fox says that at the College of Brockport, they like to "solve their problems with aggression." Coach Fox and his staff place an emphasis on winning 1st down. Their players understand that winning 1st down will often lead to a 3rd down situation that favors the defense. Coach Fox says, "Any situation that I can be more and more aggressive I am going to try and take advantage of it. I try as much as possible to deflate an offense, deflate their quarterback, and deflate their team as much as I can mentally. That is a great way to do it. If it is 3rd & long and we sack them for another 8-10 yards, or another five yards, that is not as much field position, but it is more mentally taxing on an offensive coordinator and an offensive player." While Coach Fox is aggressive in most situations, he loves to attack in 3rd & Long situations and often find himself relying on their "Sticks/Pressure" package to get the defense off of the field. For the season, the College of Brockport relied on this package for 52% of their 3rd & long snaps. By the end of the season Coach Fox estimates that this package constituted as high as 80% of his 3rd & Long calls.
While many coaches seem more comfortable sending 5 & 6 man pressures on mid to short yardage situations, Coach Fox thinks otherwise: "In third & long situations, especially 10 plus, a lot of guys will think 'hey, let's play some max coverage. Let's rush three and keep everything in front of us' but I feel like you get the same thing out of your sticks package. You keep everything in front of you, but you only give the quarterback a second and a half, to no more than two seconds, to get the ball off. So, if he is forced to throw a ball that is not going to be caught at the sticks, then as long as we can do a good job of coming up and tacking, and as long as we have good vision on the quarterback when he throws the ball, we can come up and make the stop."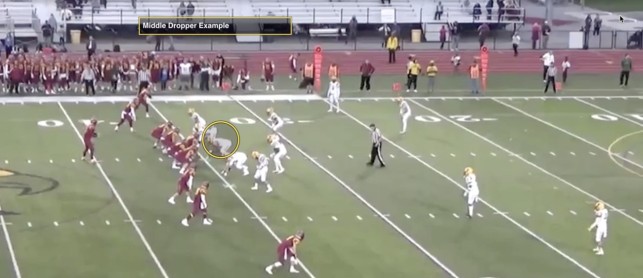 Understanding the Sticks Package:
Coach Fox and his defensive staff employ several different pressures and can pair those pressures with a myriad of coverages. Their "Sticks" package consists of a number of pressures paired with their "Sticks" coverage. This particular coverage concept blends zone & man principles. Unlike traditional man-to-man concepts where the defender is going to key the receiver that he is assigned, the College of Brockport's "Sticks" coverage looks and reacts like a catch-man technique, but the alignment and footwork (combined with the attached pressure) allows the defensive back to play with zone eyes and drive routes when the ball is thrown.
Unlike fire zone pressures, the sticks coverage concept doesn't rely on defender's that are moving on the snap to jump underneath routes or put a soft top on the defense. Instead, this coverage principle allows defensive backs to protect themselves with a cushion and still match the route as it declares. So, what separates this concept from traditional catch-man? For starters, the aforementioned eye placement for the DB is different than most man-to-man principles. The concept also tends to be less risky for the defense as Coach Fox points out, "So our eyes are on quarterback and then we are going to transition our eyes to the receiver once we see the shoulder and the ball being thrown. It can be a tough thing to do, but the good thing about it is it's almost like a zone-man concept where we get three to four guys running to the football. This way if we do happen to miss a tackle and we are in cover zero it's not going to be a 60, 70, 80 yards gain. Where if you are playing straight man press it would be that case so it's a little safer in my opinion."
Teaching Sticks Coverage:
Coach Fox and his staff do a good job of scaffolding their teaching and building on the concepts that they already have in place. Teaching this coverage is no different. From a technique standpoint, players are told: "Eyes on the QB first. Any time that we are teaching any zone concept we teach eyes on the QB first. So, if every one of our guys are going to get a 3 step or 5 step read. We work that quite a bit. So that is really what they are looking for. We tell those guys that you've got a second and a half. Find out where his intentions are first, because he's never coming to his second read. Once we see that, like if his shoulders are pointed away from me, that is now my responsibility and I am going to the football."