By Steve Erxleben with Mike McElroy
Defensive Coordinator
Bethel University (MN)
Twitter: @McElroy26
Utilizing different versions of simulated pressures, 5-man fire zone pressures, and 6-man zone or man pressures have become the "en vogue" topic for many Defensive Coordinators across the country. Like many pressure-based systems, Bethel University (MN) and Defensive Coordinator Mike McElroy base out of one high structure as they apply pressure, but like every coverage, it has its disadvantages, especially down the seam, in the Dig window, and the immediate flat.  Bethel plays in the ultra-competitive Minnesota Intercollegiate Athletic Conference (MIAC) and regularly qualifies for the NCAA Division 3 playoffs, so having an answer for 4 verticals on 3rd and long situations and in the red zone without leaning on cover 0 was a must for Coach McElroy. To change up how they handled 3rd down, while still keeping their aggressive mentality and looking for more of a "man eyes" situation for 3rd down, Coach McElroy and his staff began utilizing more 2 deep, 3 under schemes to relate to all 5 eligible receivers, still bring 6, and create a situation where the QB has to pat the ball and take a sack.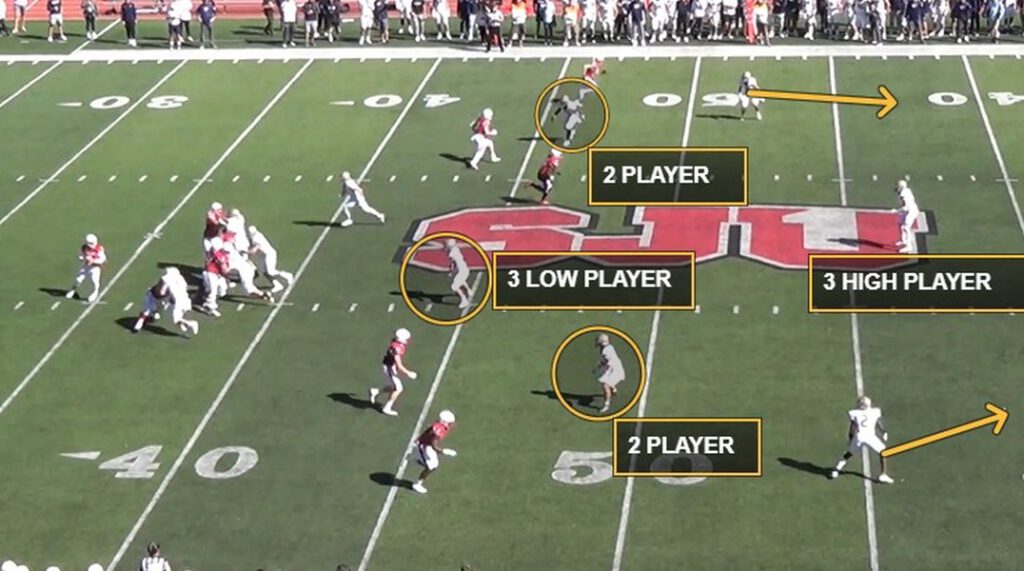 Premise:
As a base 1 high structure scheme, primarily a cover 1 man-free, Bethel University, and Defensive Coordinator Mike McElroy needed to create some sort of alternative for 3rd down and long down and distance situations where the QB is more of a "statue" and not a real run threat. Bethel is a more of a 2 down defense but primarily uses a 6 man box mentality, so they live in a nickel world personnel-wise. Bethel's defensive staff wanted to create situations where there were as many "mesh" readers underneath and as many 3rd level defenders that could have a "vision" break on the QB, basically playing everything deep to short. What the Bethel coaches came up with was more of a 2 deep 3 under that has a "double robber" feel to it.
To categorize it more specifically, this coverage is sort of a one high, inverted cover 2 where the High safety is more of a read-out player that matches 3 while the "2" player and corner play cover 2 vs #s 1 and 2.
The main idea or focus is to create uncomfortably for the QB by taking away the verticals to the outside and creating an almost reroute by alignment with the "2" players and to use the bonus FS to undercut the "now" throws inside, much like a 1 high structure would allow. Since Bethel is utilizing 5 and 6 man pressure, the coverage structure includes:
2 Deep Half Players (Corners)
2 "2" Players (Q/S: Strong and Weak Safeties)
A "3 Low" Player (Non-Pressure LB or 5 Technique)
A "3 High" Player (MOF Safety)
6 Man Tagged Pressure Situation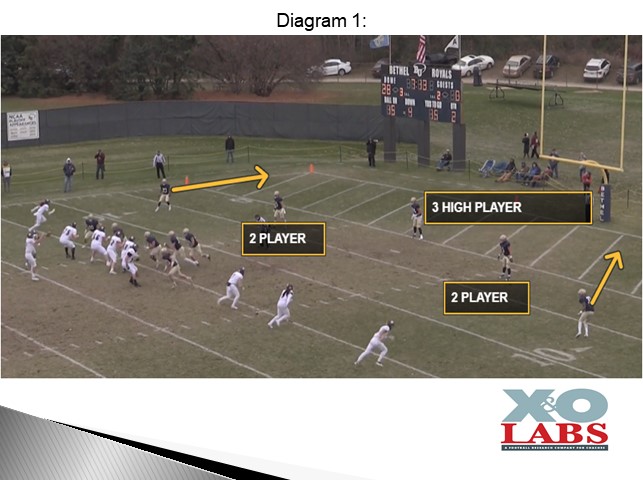 5 Man Tagged Pressure Situation
Each of these positions has specific techniques within the scheme that will be discussed below.