By Mike Kuchar
Senior Research Manager
X&O Labs
Twitter: @MikekKuchar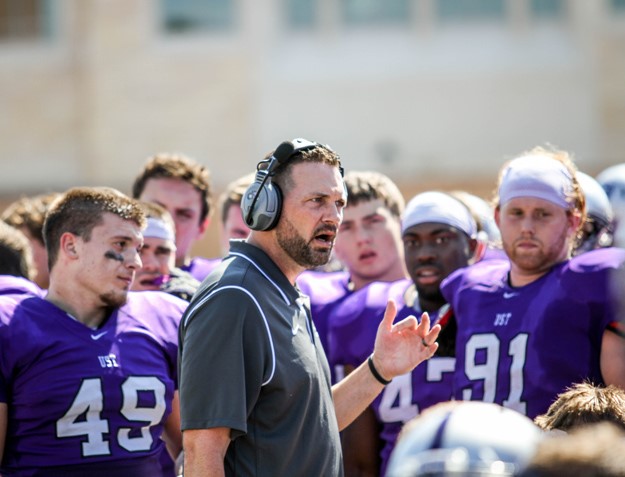 In addition to the pressure patterns used by the front seven, the responsibility of the backend to handle the coverage component of zone pressures is placed at a premium. Depending on offensive personnel and formation, many of these coverage defenders will be tied into the run fit of the pressure. While the defensive staff at the University of St. Thomas mixes and matches coverages, there is one constant pre-snap allusion: The allusion of a two high safety defense. But after the snap, all bets are off. "We are going to bring five defenders on mostly every snap, but you don't know where it's coming from and what coverage is tagged with it," said defensive coordinator Wallie Kuchinski. "That's when they [offenses] start grabbing for things that are not there."
It's important to note the Tommie defense at its base is rooted in a man coverage philosophy and plays with man eyes. "We were always a man concept team," he told us. "In 2014, we were more of a zone check team in base defense and we struggled because the first thing offenses do in game planning is watching a formation tape to see what coverage structure you will be in on non-consequential [early] downs. They watch how you line up against their formations." It was because of this that Coach Kuchinski and the defensive staff went back to playing with more "man eyes" on the back end. According to Coach Kuchinski, it helps in getting the ball out more quickly and produces a lot of hits on the quarterback. St. Thomas produced 36 sacks last season. "There are a lot of holes in zone coverage and the quarterback can complete the football," he said.
So in case two, we present our research on the coverages that the University of St. Thomas will utilize on the backend of its zone pressure patterns.
Editor's Note: Any of the following coverages could be used with the pressure patterns detailed in case one. The decision process on which to use is elaborated on in case three.
Coverage Defender Personnel
Quick LB: Weak side or field side linebacker (Nickel) who will be asked to make tackles in space and be able to cover slot receivers. He's the most versatile position in the system.
Sam LB: Strong side inside linebacker that Coach Kuchinski refers to as the "mini-me" in this system. He is more of a run defender than the Will or weakside inside linebacker. Most run fits are geared to him being the free hitter.
Stud LB: Strong side outside linebacker who will be asked to align against three-man surface structures. He will also be reduced down to play 5-technique alignments on offensive tackles. He will usually possess a stronger body than the Quick LB.
Will LB: Weakside inside linebacker. Very similar in style to the Sam, but may have a different skill set in the open field.
CBs: More of the rangier, lengthier defenders in this system, although Coach Kuchinski has played with smaller defenders here. Were asked to press on 81% of snaps last season.
Free Safety: Weak side safety
Rover: Strong side safety
Press Corner Technique
Regardless of the coverage played behind them, the corners in the Tommie system will be asked to press the number one receivers on 80% of snaps. These press techniques can take the shape of a punch or press bail fundamental. Since the press technique is not over-coached at St. Thomas, we didn't feel it necessary to spend too much time addressing it in this report. Quite simply, Coach Kuchinski and corners coach Marcus Jones will have them line up with 2.5 yards width and five yards deep. They call it "the box" with the purpose being to not let receivers run in that box by disrupting the route long enough for the pressure to get there. According to Coach Kuchinski, in most cases that pressure arrives between 2.2 and 2.3 seconds on the quarterback.