By Mike Kuchar
Senior Research Manager
X&O Labs
Twitter: @MikekKuchar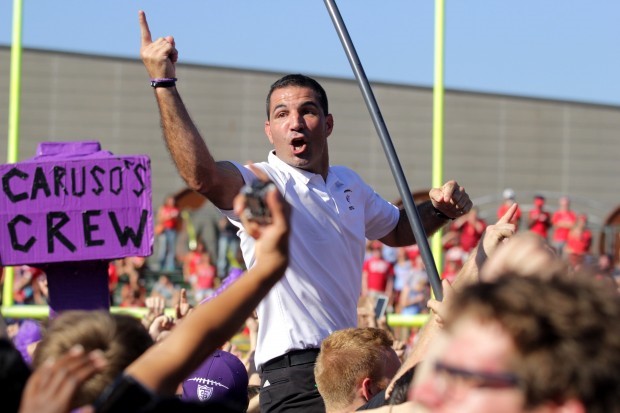 The University of St. Thomas defense is a pressure outfit. It's been that way throughout defensive coordinator Wallie Kuchinski's ten-year tenure. The Tommie D prides itself on getting off the ball and getting after the quarterback on third downs. But it was only recently that Coach Kuchinski and his staff decided to sell out completely by bringing pressure on run downs. In 2017, the Tommie's brought pressure on 85 percent of these downs. Yes, that's 85 percent. It's completely unchartered waters for most defenses. But, for the Tommie's, it's home.
According to Coach Kuchinski, the reasoning is simple. It's a methodology wrapped around the importance of what he calls "non-circumstantial downs," which are first and second downs for offenses. "If it's a down where you don't know if they are going to run or throw, why not bring pressure?" he asked. "You need to dominate them in the run game. The only thing I need to know is down and distance and personnel. If I can get a call that is good against the run and pass, why not do it all the time? If we're sitting back in an over front quarters defense and have to fit everything tight in the run game to make it work why do it? And in the passing game we're only bringing four then we have to find a way to get to the quarterback with using twists. Here at St. Thomas, we get to bring our run and our pass stuff all on the same down."
The premise is to get the offense behind the chains on first down. "Our entire emphasis is to try and get negative plays on first and second down," he told us. "And not just negative yardage plays. We're talking about false start penalties, holding calls, poor exchanges. That all happened this year because of how fast and aggressive we were." Apparently so aggressive it got offenses off the field in a hurry. Using this mindset, the Tommies only had to defend 55 plays a game this season, down from 65 per game on average the last few seasons, and were getting off the field on 80 percent of third downs.
In case one, we present our research on the Odd system structure being used at St. Thomas. We also detail the five most common pressure patterns the Tommies use in its five-man zone pressure menu. We also break down the technical concepts that pressure and non-pressure defenders are taught to execute in these schemes and the drill work that corresponds with them.
Defensive Personnel
Contrary to most odd front structures, the Tommies are not a mirrored front defense. Coach Kuchinski plays with what he calls a strong side and a quick side. The quick side is trained more to handle perimeter space while the strong side is accustomed to working against heavier run surfaces. Below are quick job descriptions of these defenders:
Tackles: The two defensive tackles are 4 technique alignment defenders that will need to be able to move post-snap into the interior as well as exterior gaps. They are put in 4-techniques to present the allusion of movement.
Nose: The zero technique defender who may be a little more stout than the tackles. Again, he's not a two-gap player here. He will move post-snap.
Quick LB: Weak side or field side linebacker (Nickel) who will be asked to make tackles in space and be able to cover slot receivers. He's the most versatile position in the system.
Sam LB: Strong side inside linebacker that Coach Kuchinski refers to as the "mini me" in this system. He is more of a run defender than the Will or weakside inside linebacker. Most run fits are geared to him being the free hitter.
Stud LB: Strong side outside linebacker who will be asked to align against three-man surface structures. He will also be reduced down to play 5-technique alignments on offensive tackles. He will usually possess a stronger body than the Quick LB.
Will LB: Weakside inside linebacker. Very similar in style to the Sam but may have a different skill set in the open field.
CBs: More of the rangier, lengthier defenders in this system, although Coach Kuchinski has played with smaller defenders here. Were asked to press on 81% of snaps last season.
Free Safety: Weak side safety
Rover: Strong side safety