By Wallie Kuchinski
Defensive Coordinator
University of St. Thomas (MN)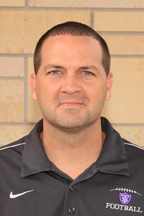 Editor's Note: St. Thomas University is coming straight off a 14-1 record and was a Division 3 national championship runner up and the Tommie defense was a big reason why Kuchinski's defense yielded a mere 15 ppg this season and was ranked 15th in the country in scoring defense. Kuchinski has developed a reputation for developing dominant defenses in his five years with the Tommies, which earned him the 2011 footballscoop.com award as the top Defensive Coordinator of the year.
Please note: The following report is written solely about attacking protections, therefore the coverage component of these pressures is not stressed. It is centered only around the players involved in the blitz, not in coverage. For all intents in purposes, each of these pressures are covered with a three under, three deep principle.
There are multiple successful units used in football throughout the years. Whether we are talking about the Miami Hurricanes in the '80s using their dominant 4-3 cover 2 package or the old 4-6 fronts used by the Chicago Bears and Buddy Ryan in the '80s. Dominant units have evolved over the past three decades just as fast as offenses have evolved. We are now seeing 3-3 Stack defenses put their stamp on history as well as the dominant 4-2-5 units TCU and others have been running for the past few years. Meanwhile, 4-4 units have been having a high level of success in high school for years as well.
I've always thought if your scheme is sound and you get your players to buy in to your system, any form of defense can be successful. I am biased however and truly believe the 3-4 Okie defense is a superior scheme for a lot of reasons. At the University of St. Thomas we have implemented the 3-4 multiple pressure front for the past 4 seasons when our staff arrived in 2008. We have shared much success both in defending the run game and pressuring the passer the past few seasons. Statistically we have ranked at or near the top in the country in multiple statistical categories. Not limiting to scoring defense, rush defense, 3rd down percentage, 1st downs gained, sacks, tackles for loss, takeaways, pass defense efficiency, and red zone defense.
Let's face it…we coach in a pass driven game these days and while our staff is committed to stopping the run with proficiency, affecting the passer is paramount in establishing a dominant unit. We have some impressive offensive minds at St. Thomas. If our head coach Glenn Caruso got on the white board and asked me how are you going to defend this pass concept vs. Cover 3 or how are you going to defend this pass concept vs. Cover 2 I'm not going to have some great answers. I played defensive end in high school and college. I am smart enough to know, however, that if you give the QB more than 3 seconds to throw the football consistently it doesn't matter whether the kid plays high school, D3, D1 or in the NFL he's probably going to complete that pass. Instead of dreaming up different ways to cover all these crazy route concepts our staff instead focuses on attacking different protections with our zone blitz concepts to get players coming free at the QB.
At the University of St. Thomas we have been employing multiple zone blitz concepts that attack protections out of our base 3 man front. While it's difficult to find an offensive coordinator out there that is willing to take the flats for 5 yards all the way down the field, I would contest it's equally difficult to find a good zone blitz defensive coordinator to pair his package down to a few pressures. After our staff determines what we need to use to stop the run effectively and get our opponent in a one dimensional passing situation we need to determine what type of protections they are using. As a 3-4 there are a few different 3 step, 5 step, and play action protections we see on a regular basis. Our staff categorizes protections as Full Slide, Insert (half slide, half man), Man, 7 man protection, and Rollout. We do categorize rollout in 3 sub-categories such as: Sprintout, Boot (naked), and Waggle (usually an uncovered puller). For purposes of this article we will focus primarily on insert, man, and sprint out as those are the ones we see the most. Nonetheless, in this article, I present 5 zone blitz concepts that attack various protections I feel everyone should take a look at. But before we address the different types of pressures, it's important that I define some "buzz words" we using in our pressure terminology.
Blitz Concept Buzz Words
Stab rusher-In a wide 5 tech a Stab Rusher is a vertical speed until he gets near even with the QB. He then transitions into Power (screws of his facemask under the chin of the OL) extends his arms to lockout and collapse the pocket, slipping inside or outside based on where the QB flushes.
Bull and Pull- Nose cheats his alignment to a slight shade (between crotch and foot of Center). The Nose takes a vertical step and bull rushes the Center and physically pulls him away from the pressure for a 2 count. His responsibility is not to let the Center get to the pressure side. After a 2 count (so he doesn't get called for holding) the Nose finds his way to the facemask of the QB on his pass rush.