By Mike Kuchar with Wallie Kuchinski
Defensive Coordinator/Outside Linebackers Coach
University of St. Thomas (MN)
Twitter: @kuchinski8
If you know anything about the defensive system being used at the University of St. Thomas, then you know how much defensive coordinator Wallie Kuchinski loves to heat up the quarterback. For over a decade, Coach Kuchinski has built and continually evolved the Tommie's brand as a pressure outfit and in its inaugural '21 season at the FCS level was no different. The Tommies posted a 7-3 record and a top 5 finish nationally in team passing efficiency defense. They did so by relying on pressure, limiting offenses to under 18 points a game. Quite impressive, considering facing all new opponents.
Part of that success is credited to Coach Kuchinski's diverse package, which includes two-high sims, one-high sims, fire zones, man-free pressures and the hot pressures that are detailed in this report. The last time X&O Labs worked with him, he was majoring in 3-Deep, 3-Under fire zone coverage that he used on nearly 95% of pressure downs. While this scheme held up in the run game, he found that the coverage was vulnerable in the RPO game, and the man-like coverage structure didn't quite hold up against the upgrade of offensive personnel at the FCS level. Plus, well-coached offensive lines rarely have issues holding protection against five-man rushes.
So, this season shifted his mindset into utilizing more "hot pressure" (3-Deep, 2-Under concepts), which gave the allusion of man coverage by bringing six defenders who were able to play with more zone eyes on the quarterback. But while many coaches utilize these pressures from two-high structures, the difference in using a three-high structure allowed seam defenders to play from the top-down alignments with a better vision on the QB. It was a final down call for Coach Kuchinski who liked it more in pass-heavy downs (3rd and 6+) than anything else. And he complimented the scheme with pure Tampa coverage from 3-high alignments to protect the flats.
While this scheme wasn't the top pressure package in the Tommies system- three deep sims took home that honor- these were "call it, run it" pressures and held up against any formation and in any ball location, particularly in the low red zone. And the one-high post-snap finality meshed with the rip/Liz match and man-free principles in Coach Kuchinski's menu. "When you send five and play four under, you have to scheme things up correctly to get a rusher free," Coach Kuchinski told me. "But when we bring six, we are getting a guy free, and we don't have to play man coverage behind it."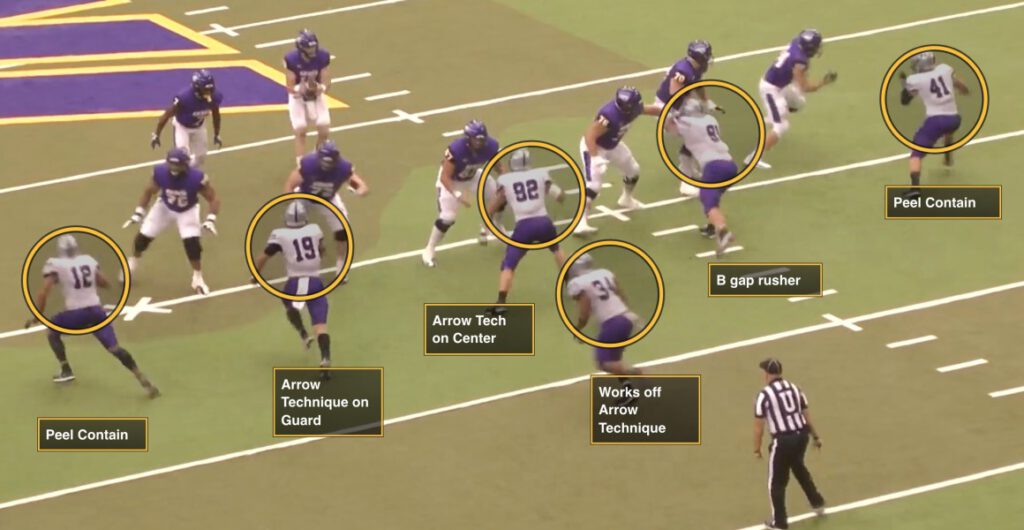 UST's "Nickel" Personnel Structure:
The advent of 11 personnel offenses has caused Coach Kuchinski to play his Odd front, Nickel defense now in over 70% of all downs. But while he calls it "Nickel" personnel, essentially, it's a two-down structure, field, and boundary defense that utilizes the following personnel:
2 Interior Defensive Lineman- Nose and Tackle, who can be interchangeable
2 Defensive Ends - These are more linebacker personnel types that will play to the field and boundary on the line of scrimmage in this package.
2 Linebackers- Sam (strong-side outside linebacker) and Will (weak side inside linebacker)
2 Corners
3 Safeties- The Nickel Safety is the field safety, the Free Safety is the middle safety while the boundary safety aligns to the short side.
The Field End is more of a field outside linebacker type while the Boundary End resembles a stand-up pass rusher. In his three-high alignments, the Nickel plays to the field, the Free Safety is the middle safety, and the boundary safety aligns to the short side of the field.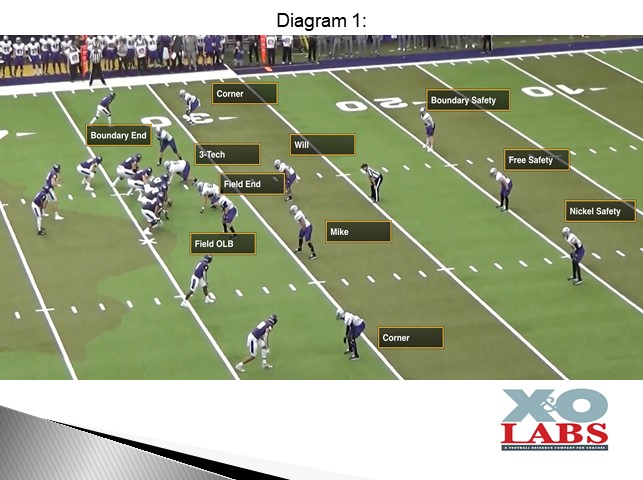 The rest of this report focuses solely on the one pressure pattern Coach Kuchinski uses in his hot pressures system and how he teaches the back end to drive on routes that can be problem areas.