By Wagner College Defensive Staff
Editor's Note: After starting the season at 0-3, Wagner College rolled off nine consecutive wins en-route to a FCS playoff birth-the first time in school history- and they did it with defense. Wagner was first in the Northeast Conference in scoring defense yielding only 17.4 points per game and total defense surrendering just over 320 yards per game. X&O Labs Senior Research Manager Mike Kuchar spent some time this past Spring talking football with the Seahawks defensive staff.
After having tremendous success defensively last season which included a run deep into the FCS national playoffs, the Seahawks are beginning to experiment with new forms of pressure this spring, including at two-deep four under concept from their "Dog" or Okie Front (Diagram 1). After running mainly three-deep, three-under blitz rotations last season, defensive Coordinator Malik Hall and his staff decided to integrate some two-deep concepts to keep offensive off-balance. "It takes away the three step game which we were tired of giving up," said secondary coach Ryan Fullen. "We are a quarters coverage team by nature, so we keep the two-deep shell plus we also don't give up the flat so quickly as other some three-deep, three-under structures."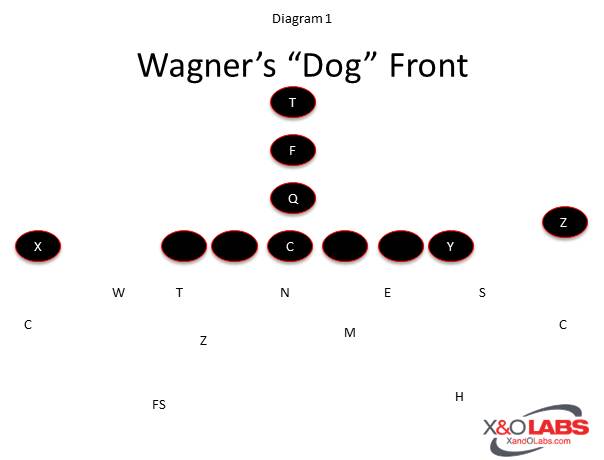 In order to disguise its pressures, Wagner will use a "walk out" technique by its Corners post-snap, regardless of whether it is a two-deep or three-deep rotation. "It confuses the QB because he sees a hard corner post-snap," says Fullen. "You can get him to clutch the ball on the snap or cause an interception because the QB doesn't see the corner squatting." Assistant head coach Tom Mesalla agrees, "There comes a point in time you want to eliminate the quick game," he told us. "Those players are too good to see the speed out by the QB. There are also times where the CB's are really not that good. Cover Two protects those Corners. In Quarters coverage or in three deep they are on an island. "
Cut Coverage
Wagner understands the importance of teaching coverage first before any blitz pattern, it's a lesson learned by Mesalla when he was the defensive coordinator at Louisiana Tech in the early 2000's. "We used Razor, Blade and Cut as words that denoted two deep zone pressures," he said. "It eliminated confusion in our kids. They knew right away by the call what coverage we are in." Mesalla brought the same philosophy with him to Wagner and taught it to Fullen, who was an assistant with Mesalla when he was the head coach at Fordham. Now in the Seahawks scheme, Cut coverage means there is NO rotation in coverage and the inside and outside linebacker to the same side will blitz. One of the more prominent calls is called "Bomb" (Diagram 2). While Mesalla admits it's a good pressure to the field side, it can be used effectively against the strong side run game with a tight end. In theory, the Corners are responsible for any flat threats, while the Safeties are the deep halves players, playing on top of number one. The linebackers that are not involved in the pressure are "seam" players, meaning they must carry the vertical of any number two receiver.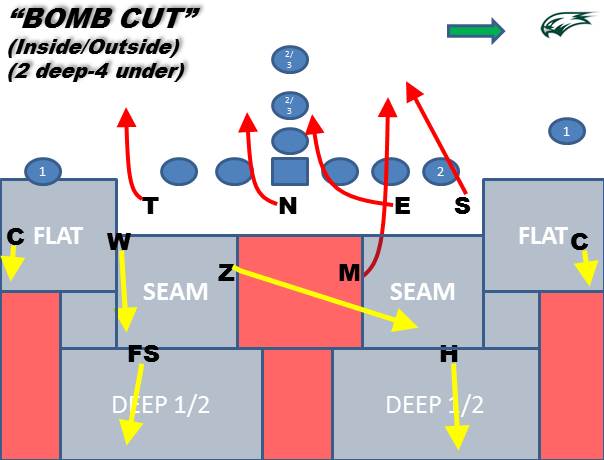 Cloud Support
When first teaching the coverage, the Wagner staff teaches "Cloud Support" for its secondary. The Day One installation rules that the Corners and Safeties get are below (Diagrams 3-4).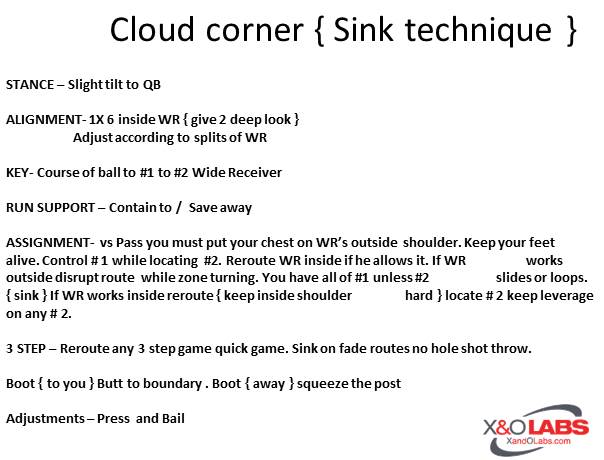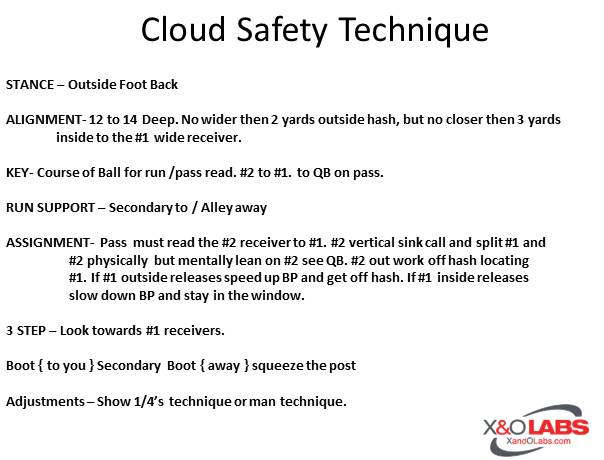 "It all starts with Cloud, then we transition from there," said Mesalla. "Cut is a good complement to three-deep zone pressurs because there is no free access throw. The QB has to read through his drop to see what the corner is doing. But our first two steps as a Corner are the same- we take two steps back and either square up to play Cloud or open up to play Clamp (a support call which will be discussed later). Their first two steps should look exactly the same. "We want to end up in a position on the outside shoulder so that we can reroute. We teach an inside outside pin with our back to the ball.
Corner Technique
If we get an outside release, we are going to punch with our inside hand, then punch with my outside hand to pin and read number two. If two is vertical, I carry number one (Diagram 5). If number two slides, I will come off and play number two (Diagram 6). There should be no hole shot in Cloud because the Safety will be there. Once the corner controls number one with a reroute he must find two and see what he is doing. If there is no number two, carry one until two shows. If two is vertical, I must sink. If two is inside shallow, I can level off (Diagram 7). If two is off, I have to slide off and settle. We must zone turn inside. We can't baseball turn (man turn) without seeing number two. If both receivers are vertical, we tell our Corners that physically we are splitting both, but mentally they need to cheat inside because that is the shorter throw. The Corner is not responsible for number three in the flat. It's the hardest coverage to teach."