By Mike Kuchar with Manny Rojas
Defensive Coordinator
University of Delaware
Twitter: @Coach_Rojas_UD
Two seasons ago, Delaware was purely a base defense. Rarely were they a pressure outfit, relying mainly on three-deep, five-under coverages from its 3-high shell. According to Coach Rojas, the system was originally molded after what defensive coordinator Jon Heacock has done at Iowa State, but shifted to more of the pressure aspects that FAU defensive coordinator Todd Orlando has established. In the CAA conference, Delaware sees more 11 personnel structures than anything else, so getting more speed on the field makes sense, prompting Coach Rojas to claim "he'll never go back to playing four down defense again."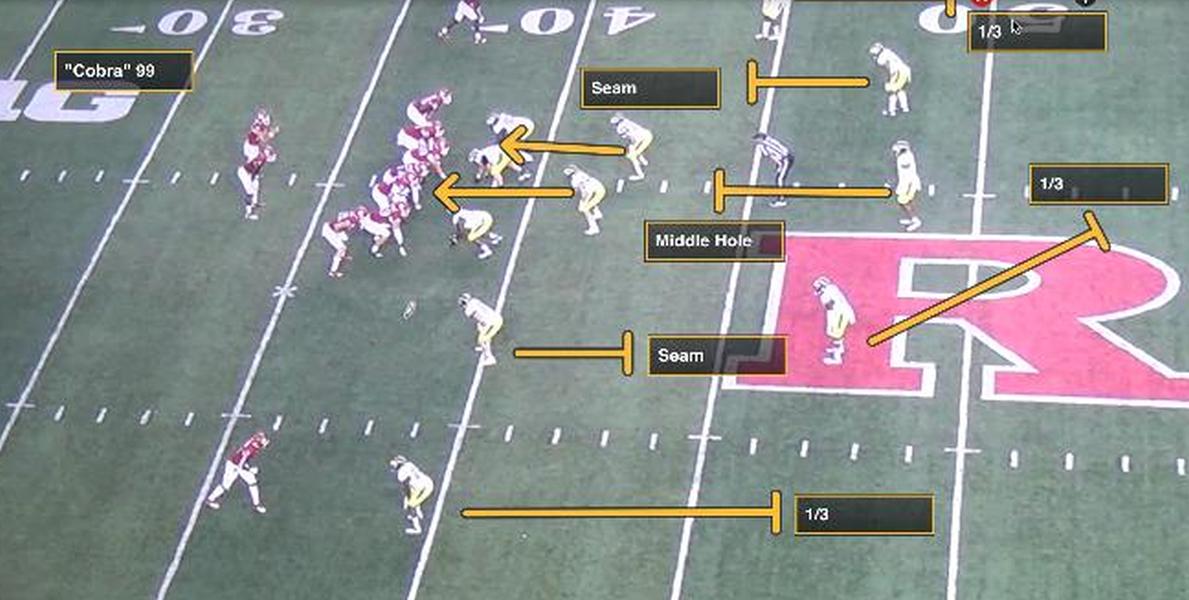 His base personnel operate like an Odd Stack consisting of the following:
Nose- No lag player, pure zero tech vertical player
End- mainly to the field or offensive strength
Tackle- mainly to the boundary
Mike- Middle linebacker
Will- Weak side linebacker
Bandit- Strong side linebacker
Rover- Middle safety (glorified linebacker in this system)
Field Safety- Best cover safety
Kat- Weak side safety
Field Corner- can play left and right based on tempo
Boundary Corner- can play left and right based on tempo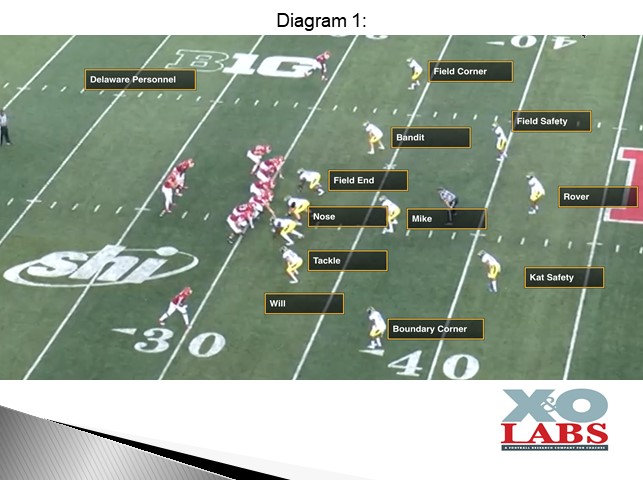 Coach Rojas does use sub personnel with those of these pressures, which consists of four safeties and two corners. One of the linebackers will come out. "We used to bring a corner in but now we are using a safety because our safeties can cover," he said. "It makes it easier to call things and make calls on the run against tempo. We can call it as we need to."
Base Pressure Ideology: Three Down vs. Four Down
It's important to note that pressures in three-down structures have to be called entirely different than in four-down because of the way it's structures. In four-down fronts, safeties are the insert defenders in pressure concepts whereas in three-down those players are linebackers. So, a good amount of time has to spend teaching those linebackers where to insert based on the pressure. This is why Coach Rojas will chose to run more field pressures than boundary pressures. "We just bank on teams running to the boundary and us rallying to the football," he said.
In this report, we are going to profile the base zone and man pressures Coach Rojas utilizes in his system.