By Jason Davis - @jwdavis13
Defensive Coordinator
Farmersville High School (TX)
Editor's Note: Coach Davis will be entering his third year as Defensive Coordinator at Farmersville High School in Texas. Coach Davis has coached for a total of 13 years, all of them in the Texas High School ranks.
Introduction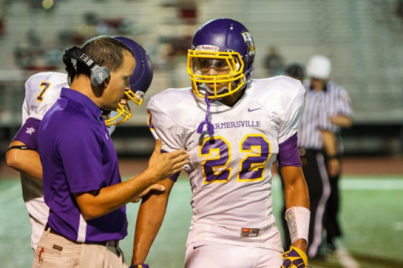 Reaction time and recognition are the keys to getting defenders in a position to make plays. For us, that starts in the box with the way we read the opposing offensive tackles. Our goal is to make sure that regardless of their technique, they will be wrong. That is to say that if our guys execute our techniques we will be able to fill the appropriate gaps regardless of that tackles action. We use his technique to quickly determine assignments within our "Gap Exchange" scheme resulting in better fits and more consistent pursuit. Here are a few of the reasons we have found this to be effective for our team:
Reason #1 – Simplest Way to Define Responsibilities
It is the easiest way for our ends and backers to be responsible for both gaps quickly and efficiently. We found that we played the counter, zone, and power a lot better because it eliminated a lot of doubt for our kids. It also allows our kids to play fast and makes us difficult to block.
Reason #2 – Cleaned Up LB Pull Read
The second reason is we used to try and get our backer a run through when he got a pull from the guard or tackle to his side. We rarely got him through the line of scrimmage without getting picked up. Then we tried letting our backer scrape flat with a pull from his side, but they always got picked up by a down block from the other side. Our end would squat and be responsible for the quarterback on the read. Regardless, we felt like we wasted two of our players, because we found that our DE is difficult to block chasing down the puller.
Reason #3 – Not Wasting Players
This scheme allows us to play the backside of a counter or zone scheme without wasting our end and backer. Their reads get them both into a proper gap and help them better understand what might be coming their direction. Our guys know pretty much what to expect based on their tackles actions.
Reason #4 – Plays Into Strengths
The last reason we like our current scheme is that our ends are really good at playing a kick out block and working into "B" gap so we had to get a guy to "C" gap. This strength / technique makes it really hard for a pulling tackle to wrap up on the linebacker putting us in a better position to make the tackle.
Base Defensive Alignments
We play an even front versus gun one back teams. Our defensive tackles align in two techniques and are responsible for "A" gap. The defensive ends are in are in a three point stance, slightly toed out and attack/read the hip of the offensive tackle. We want our defensive end to stay on the heal line unless his tackle pass sets. The inside backers are head up to the offensive tackles in a 40 technique about four and half yards deep.
The defensive tackles will always line up in two techniques. We never want the guard to have an indication of the gap the defensive tackle is responsible for pre-snap, but versus most zone and counter teams our DTs are responsible for "A" gap. Our tackles attack the bottom of the number of their guard with both hands and work into their gap trying to get to the heel line while keeping their shoulders square to the line of scrimmage. The DT's know that their gap has the potential to move with a zone scheme and these guys will work to stay in their gap. If the center blocks back on them they will work to cross the center's face. Our defensive tackles rep this every week in hopes that it becomes second nature to them.
The defensive ends align as tight as they think they can personally align to the offensive tackle without getting hooked. On the snap, the ends will attack the hip of the tackle and read his facemask to determine our next move.