By Steve Coburn
Head Coach & Defensive Coordinator
Wasatch High School (UT)
Twitter: @stevecoburn76
Introduction: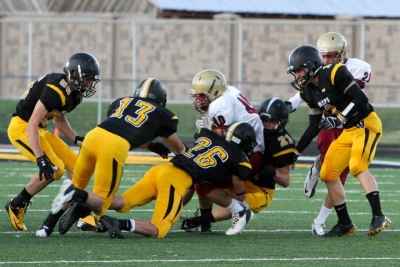 In this clinic report, I'll be describing our approach to installing and using our option package within our 4-3 defensive scheme. Our base defense is primarily out of an over front and quarters coverage structure. We may only see this offense once or twice during the course of a season, so for that reason, we need to be very specific with our players as we install this package.
From an X's and O's perspective, we will only use one front and one coverage. These offenses run the same plays repeatedly week in and week out while we may only get three days of practice to defend it. For that reason, we minimize our defensive package to get better at defending the option. We believe this gives us the best opportunity to get as many reps as we can in those three practices in preparation for the opponent.
We tell them, our players, that they have 1/11th responsibility and they need to be very disciplined in that responsibility for the package to function. If they do their 1/11th each play then we will be successful.
Monster 1 Scheme
Monster 1 is designed to be a balanced defense. It consists of two dive players, two quarterback players on each side of the ball and one pitch player in the middle. The two dive players are the 2i defenders and the 30 technique inside linebacker. We play the defensive tackles in 2i techniques to minimize the Midline option play. The two quarterback players are the overhang defender (low safety) and the 5-technique defensive end or the inside linebacker depending on the block of the offensive tackle who will either veer or base block. The high safety is tasked with playing the pop pass to pitch.