By Chris Kappelmeier
Defensive Coordinator
Sparta High School (NJ)
Editor's Note: Coach Kappelmeier rejoined Sparta HS's coaching staff in 2011 serving as the Defensive Coordinator. He has a long history coaching high school football with past positions as an assistant coach at Pope John (1986?1992 and 2008?2010), Sparta (1993?1994, 2005?2007 and 2011?present), and High Point (1995?2004). He was the head football coach at High Point for 8 seasons (1995?2002), winning a conference championship in 2001 (the only one in school history). He has a Bachelor's Degree in Mechanical Engineering from the Catholic University of American and a Master's Degree in Mechanical Aerospace Engineering from Princeton University. He has been teaching Physics and Calculus at High Point Regional High School for 19 years. He and his wife, Raquel, have three children: John (12), Lauren (11), and Maddie (7).
Over the past few years, we have faced many different forms of the option. Each option system has its nuances, but we have found that defending them can be very similar. It all starts with know what NOT to do. Here are a few of the lessons we have learned that will help you avoid common problems that people face when defending the option:
#1 - Do not play assignment football with your defensive front. Nothing can slow them down more than telling them they can only tackle one particular player. The key to effectively defending any offense is allowing your defensive players to play with confidence and to play fast. The same holds true for defending the option. Let your players execute the same techniques they have used all season and they will be the most effective. Another reason to avoid assignment football for your front defenders is it typically takes more than just one defender to tackle the dive/veer back. Since this is always the first choice for any option offensive coordinator, you cannot assign only a defensive tackle or end to stopping him.
#2 - Do not expect any player to defend both the pitch and the pass. The play action pass is the most explosive play out of the option offense and any good option team will be very adept at throwing it in any situation. Do not rely on the player assigned to the pitch to also cover the slot receiver or tight end down the field. Use your free safety to defend the inside receiver.
#3 - Do not align your defensive linemen in the large gaps that are very likely when facing an option-oriented team. When the offense aligns with large splits the temptation is to have your defensive linemen line up in a gap and penetrate. Experience has found that while this may be successful sometimes, in the long run it can backfire and allow for a big play by the offense. Maintain your shade alignment not allowing the covered linemen to 'jump through' to the next level allowing the linebackers to run to the football and make plays. By maintaining their shade alignments, the defensive linemen are guaranteed to be single blocked since double teams and combo blocks are very difficult with big splits. Maintaining shade alignment versus wide splits also makes stunting across the face of the offensive man more effective since there is no offensive lineman close enough to block the backside gap.
#4 - Do not invent a new defense to defend the option expecting your players to master all of the necessary techniques in one week of practice. Once they figure out what you are trying to do they will have an answer for it. You best off playing fast out of your base defense.
4 Do's in Defending the Option
In the end, experience has taught me that the best way to defend the option is to align in your base defense. For us, that means using out flexible 4-2-5 scheme to address the different double and triple option techniques that we face year after year. Here is a quick look at our scheme / alignment followed by four "Do's."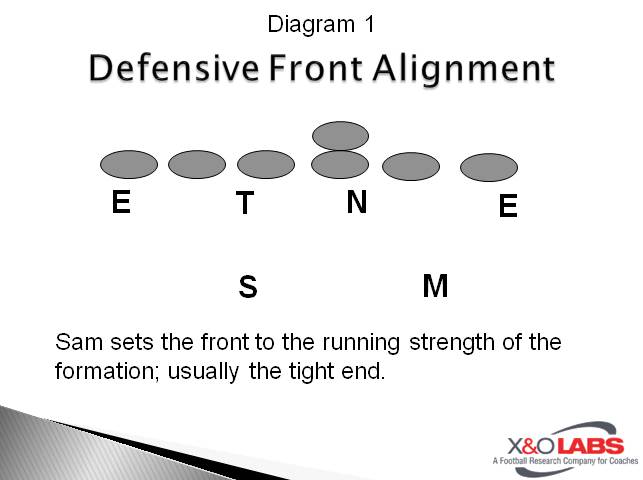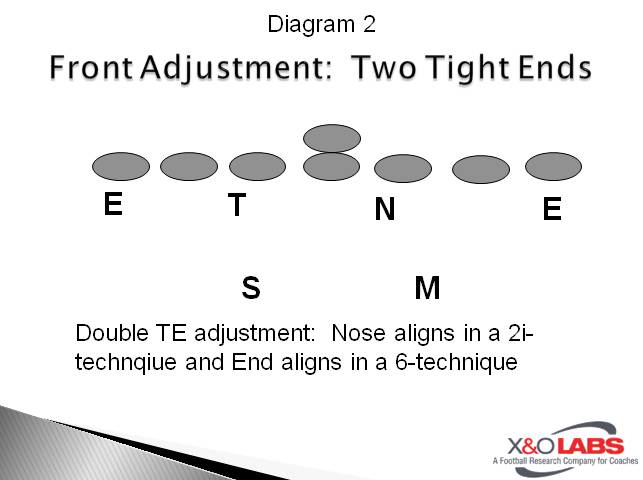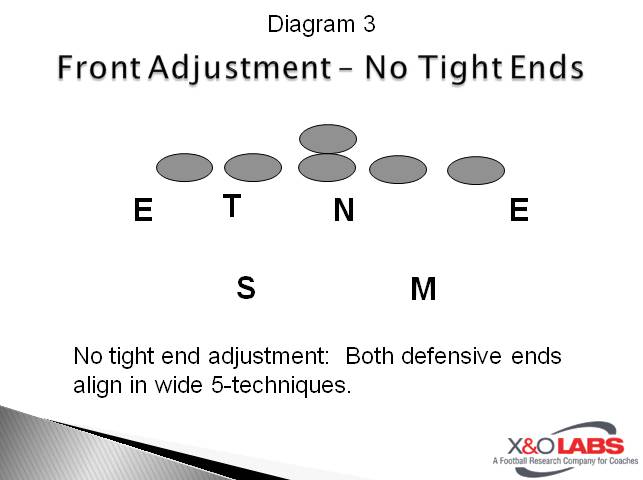 #1 - Ignore Line Splits
A favored technique of many option teams is to use very wide line splits. The temptation to align in the gaps is great, but "It's a trap"! When you align in the gap and not on an offensive man, either lineman can now block you with a very good angle, or release to a linebacker or the FS. This puts the burden of defending the fullback carry or the quarterback keep, on the defensive linemen which increases the chance that an athletic running back or quarterback can escape and make a big play.
A better way to combat the wide splits is to align heavy on the offensive linemen in a slight outside shade and using line stunts and slants. During games versus option teams this past season our defensive linemen stunted or slanted on almost every play. Since this is a big part of the 4-2-5 defense it was something they were comfortable doing. They spend at least one 15-minute session each week during the season, not to mention the preseason time, defending inside running plays while stunting. The linebackers are aware of the gap exchanges created by the stunts and slants and have no difficulty fitting the run in these situations.