By Josh Patrick
Assistant Football Coach
Jacksonville High School (IL)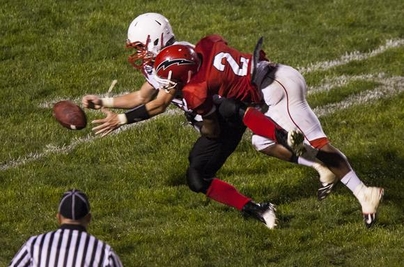 In today's football world, we all know that there has been a huge surge to spread offenses. In fact, so are we. But, there is always that one or two teams on your schedule who still run a double wing or wing-t style of offense. Some are even running it out of the gun. Another issue is that we don't play these teams back to back, but something like week 3 and week 7. I have nothing against this style of offense, but as a defensive coordinator it can throw a huge wrench in your defensive scheme if you don't have a plan to defend it. We run a base front out of the 4-2-5. I believe that you will be most successful by keeping your current principles in place and have an answer for this team. If you try to install a defense that is only for a specific team, you are setting yourself, and most importantly, your team up for failure. In our league, we see more double wing offenses than wing-t, however we would defend the wing-t the same way.
TROUBLE WITH DOUBLE WING/WING-T
The trouble with this offense is how good they are at misdirection. There is a lot going on in the backfield with motion and counters and boots. It's all designed to get you out of position and take advantage of blocking angles on your defense. And, they will try to get tricky and use formations and motions to get you out numbered at the point of attack. The key for us is to use motion adjustments to keep the numbers in our favor and be disciplined at each position. Most of these teams aren't going to be breaking too many records throwing the ball. Their success throwing comes from establishing a strong running attack. If you can stop the run and make them throw when they have to instead of when they want to, you're going to have a great chance at being successful.
COMMUNICATION
Any successful defense is great at communicating with each other. It's even more important defending this style of offense. Your players have to be disciplined and know their assignments. For us, no matter who we are playing, we have defensive positions that are responsible for communicating specifics to the rest of the defense. For example, our strong outside linebacker is responsible for how many backs are in the backfield. Our strong safety is responsible for the formation to get the secondary lined up correctly. Our Mike baker sets the front and makes any adjustments. Our Will baker tells the down and distance. All of this plays into tendencies that we have picked up as coaches and then given to our players on Hudl, in our scouting report, and then drilled all week long. The kids must be talking the entire time we are in a team segment. All of this is being announced to the defense and before you know it, you are hearing plays being called that they have learned are the opponents favorites. Like I said earlier, this is very important for defending double wing/wing-t teams. We add they type of motion we see, deep pitch motion or jet sweep motion, to our list of communicators for these teams.
PREDICTABLE
I like to use something I've heard over the years when we are getting ready to play one of these teams after playing several spread offenses in a row. The kids are a little jittery when facing a "different" offensive attack. To put them at ease and keep their confidence high, I tell them that these teams have an 85% tendency to run plays that go with their pre-snap motion. And, for the most part that's the truth. In fact, we have seen teams that are as high as 96% tendency! As a defensive coordinator, I will take either of those percentages any day.
If they don't use motion, there is even a higher percentage for it being a passing play. Even if it's not, they are limited in the running plays they can run, or the wing back is going to be way behind and have trouble catching up.
ALIGNMENTS
Keeping our principles and fundamentals the same, we align to the double wing offense as we would any other offense. Except, we roll down our weak side safety and play him as an outside linebacker (Diagram 1)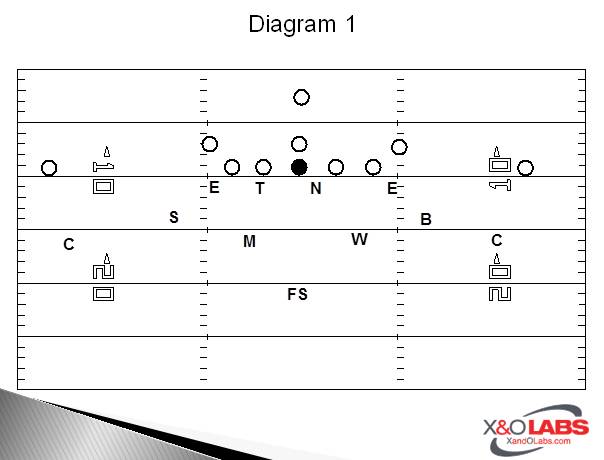 $1· *DE: align in gap between offensive tackle and wing back. No wing, wide 5 tech.