By Mike Kuchar
Senior Research
Manager X&O Labs
Researchers' Note: You can access the raw data - in the form of graphs - from our research in defending bunch run and pass games: Click here for the Statistical Analysis Report.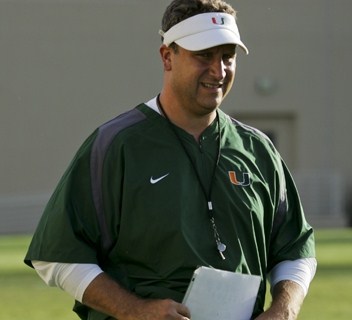 "If they run a bunch toss scheme, I want cloud and corner force." Mark D'Onofrio, Defensive Coordiator, University of Miami (FL)
In our previous report, X&O Labs profiled the "Rub" concept, which is what we found to be the most used concept in Bunch formations. We presented numerous ways in which the bunch formation can place stress on a defense.
In order to conduct our defensive study we reached out to four major college coaches; two on the FBS level, to find out how they best handle bunch. Their responses may surprise you. All three consider defending bunch to be an entirely different package, mainly because offenses will use a separate set of plays in their bunch package to attack different coverages. When we conducted our initial survey, we found that 63 percent of coaches check their called coverage to a bunch check, and 61 percent of those coaches have only one base check to bunch. But according to the coaches we spoke with, there is no one best way to handle bunch. It's all predicated on what offenses are doing when they run bunch. While we may not know of a "perfect" coverage to defend bunch, we do know that you must first analyze what offenses want to do. Productive offenses will attack both the strong side (three receiver side) and the weak side (X receiver side) when lining up in bunch. We found that offensive play calling is limited to the certain run/pass concepts when running the bunch formation:
To Bunch Side: Quick hitting fast flow run scheme like toss (truck scheme) or outside zone (diagram 1).
To Bunch Side: Layered pass game concept with leveled routes such as the Rub/Snag concept (diagram 2).
To Bunch Side: Intermediate pass game concept that attacks underneath defenders such as the Spacing concept (diagram 3).
Away From Bunch: Split Flow run game like the Slice concept back-side off inside zone (diagram 4) with a boot component off of it.
Away From Bunch: Isolation on the X receiver with tagged routes (diagram 5).
We've found that most offenses will set you up in bunch and really run only one or two of those concepts. Remember that based on our Bunch offensive survey last month, the majority of coaches, 38.3 percent use the "Rub" concept to the play side of bunch as their main pass scheme while 51 percent of coaches use the toss or truck play as their main pass scheme. It's what they favor that you, as a defensive coordinator, must defend. Of those coaches that use bunch, 42.2 percent use it in less than 25 percent of downs. As a defensive coordinator, this all has to factor in when defending it.
"If it's a big part of their offense, then I'll call defenses against it that I know will stick," says Mark D'Onofrio, the defensive coordinator at the University of Miami. "If it's 25 percent of someone's offense out of 21 personnel, I may have five calls that I'll play out of it. I just won't have one bunch check. I want kids to play fast. If you're getting a ton of it, you have to have certain calls. But if it shows up five times in a four game break down, I'll only have one check based on what they are doing. If you're getting a lot of open side run game than I want to send a pressure to the open side or play an eight man front. If they run a bunch toss scheme, I want cloud and corner force. If it's an open side run team I want to have an eight man front or blitz the open side. If they want to run those intermediate pass concepts like the Spacing and Rub than you want some sort of man principle. It all depends on what they major in."
In this report, we are going to focus on the three main coverages that defenses will use to defend bunch sets. We will detail the strengths and weaknesses of each coverage and describe how coaches use these coverages to defend the run and pass concepts.