By Mike Kuchar
Senior Research Manager
X&O Labs
Twitter: @MikekKuchar
Introduction:
We found the majority of coaches, 44 percent, choose to use four down fronts to defend the flexbone option (See Chart Below). The reasoning is molded around the ability to cover up offensive linemen to prevent them from getting to the second level. We've also found that many defensive coaches are choosing to use a single gap control system (rather than those two-gap principles tied to odd front teams) to defend option. They are in the opinion that your assignments are clearer when you have one gap to control.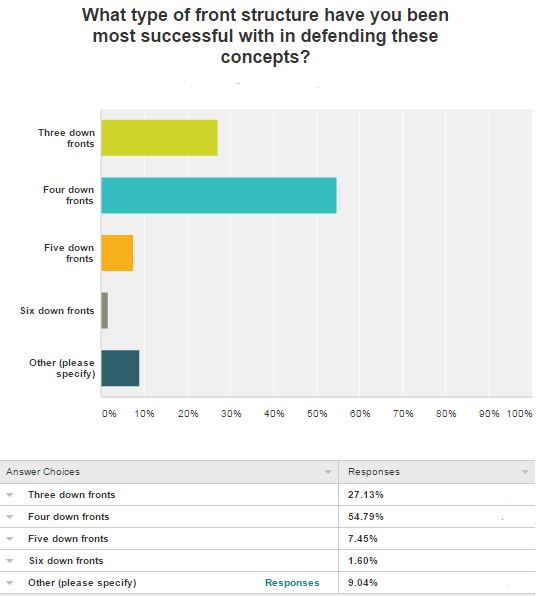 Even Front Systems to Defend Triple Option:
While those might be the base ways to defend triple option concepts in the even front system, we wanted to single in on some specific programs to research how they were defending pure option football. We selected six programs from all levels who had a winning percentage of .750 or higher in defending option football. We presented a synopsis of how each of these systems defend option football. While much of our contributions come in the form of defending flexbone option, we've found that coaches are using these same principles to defend spread option concepts as well. We broke down each of these systems on the following:
• Base Structure and Methodology
• First Level Play
• Second Level Play
• Third Level Play
• Changeups to defend option
• Pressure Packages
4-2-5 Base Structures:
Source 1: Northwest High School (OH)
Defensive Coordinator Robert Burke
Base Defense:
Northwest High School is a press quarters coverage team that will challenge receivers in the quick game. "Our main front is an under front, but we also use an odd at times.," said Coach Burke. "Our philosophy is to spill everything to the sideline and let our athletes run it down. We are a squeeze and wrong arm team, which becomes important to how we defend these offenses. Our base coverage is quarters with a cover 3 check. Our coverage calls are dictated by the looks the offense gives us. We split the field in half and adapt to each so that no matter what the offense throws at us so we are not outflanked."
Play of First Level:
The defensive end is taught to get hands on all down blocks. "This frees our inside linebackers up to make plays," said Coach Burke. "Our end man on the line of scrimmage must also tackle the dive against the option. This dictates how we run fit the safeties and linebackers. Our DEs (and at times OLBs) must use this technique for us to be effective. Against these offenses and in our under front we play our Mike linebacker at 6 ½ to 7 yards over the ball. By squeezing down blocks we allow him to be an inside out player and flow downhill untouched."
Play of Second Level:
Coach Burke will align his Mike linebacker at 6.5-7 yards over the ball. "By squeezing down blocks we allow him to be an inside out player and flow downhill untouched," he said. "It is also important to point out that our coverage calls dictate our force and fill calls as well. When we split the field in half there must be a force, fill and pass only player on each side of the ball. When we discuss these calls note that against options teams the force player is pitch player and the fill player is the quarterback player." Coach Burke explains these concepts below.
Nail:
"Nail is a read between the outside backer and the quarters safety," said Burke. "The outside linebacker plays at 3.5-4 yards off the wing on his inside shoulder. The safety aligns at 8 yards on his outside shoulder. Nail is a simple read. If the wing arcs or base blocks then the outside linebacker is the force player. He press sheds the wing and doesn't let the ball outside him. Again, he is the pitch player vs. the option. The safety becomes the fill player vs. an arc. (Diagram 35). If the wing wraps inside for plays such as midline or belly, the outside linebacker wraps with him and becomes the fill player. The safety then becomes a force player vs. an insert block (Diagram 36). The corner has all of the number one receiver and we press. The safety has all of number two if he crosses five yards. If number two goes under five yards then the safety can double number one. The outside linebacker has the flat and runs with all wheels."