By Mike Kuchar
Senior Research Manager
X&O Labs
Twitter: @MikekKuchar
Introduction:

It's impossible to defend these schemes during the course of a game week, which is why most coaches don't. We've found that the majority of coaches, 57 percent choose to start preparing for triple option offenses in the spring or summer leading up to the season (See Graph Below). So, we reached out to those coaches who have won at least half their games against these schemes to tell us exactly how they prep for these offenses.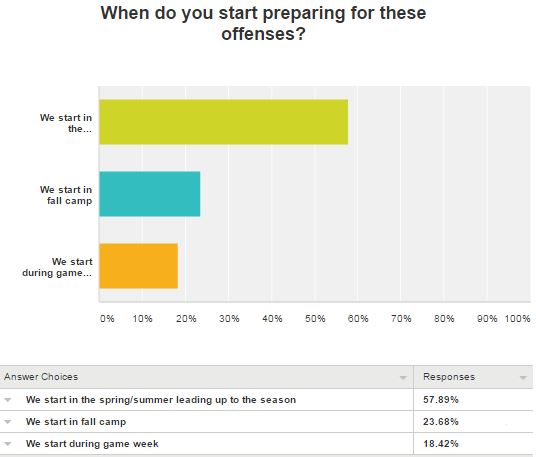 Practice Planning Flexbone Option:
Shawn Quinn, the defensive coordinators at Western Carolina University, adopted the following practice philosophies when defending triple option concepts:
Teach half/part/whole

Start half line than progress to full line.

Start with defensive line and back seven split up.

Start in the spring devoting time to defending the option every day.

Do a technique circuit which includes arc, load and cut work.

During the season, set aside time every day to practice basic option fits. We use ten minutes every Monday practice.

Work option fits during bye weeks.

Do as many drills without a ball to have defenders go to their responsibilities.

Rep every call verses one play. For example, use dive option weak vs. every defensive call you have.

Rep every play vs. one defensive call.

Use a perimeter blocking drill with cut blocking.
Half-Line Methodologies:
Jay Brophy, Buchtel High School (OH): "Set up half line group work on assignment football. Two half lines set up going left and right, rotating defense so they get looks going both ways on option."
Jared Ocker, Sioux City East High School (IA): "We do half line fits all week against the various phases of the options. We use scout team cards and do not use a football. We will work on getting hands on and blocking down step down. This is also the time where we will script in our line stunts and blitzes."
Jim Dawson, Trinity University (TX): "Split drills...a-b gap reads and games, c-d gap reads and play all before coming together in a team option drill or script."
Team Defense Methodologies:
Gary Phillips, Conestoga High School (PA): "We practice a whole defense drill that works all phases of the option (dive/keep/pitch). We work on this for 10 minutes every practice in preparation."
James Cook, Smithfield High School (RI): "Pursuit drills. Making sure our defense is running through the dive to QB then to the pitch."
No-Ball Methodologies:
Michael McKay, Indian Trail High School (WI): "We have the LBs and perimeter guys practice responsibilities without a ball. Using bags as OL."
Andy Guyon, Xavier High School (CT): "We always practice without the ball and on the last day all of the phases have the ball so we can work on takeaways."