By Joe Castellitto
Inside Linebackers Coach
Utica College (NY)
Twitter: @CoachJoeCast
To state the obvious, a defense's main objective is to stop the opposing offense from scoring. Clearly, if this is done, your team has the best odds of winning a football game. But what can a defense truly do to increase the odds of winning a football game? Create turnovers and score on defense.
It almost sounds simple to just stop the offense on a third down or to create a takeaway. The Utica College defensive staff bases our defensive philosophy on third down wins and creating takeaways. Yet, this is easy to discuss amongst football coaches. Our staff has developed a system for turnovers based off of verbiage, drills and game stat percentages.
The "Takeaway Mentality"
Implementing a takeaway mentality or philosophy to an entire defense must start from Day One. At Utica College, the first night in preseason camp the defensive coordinator, Will Pluff, has his opening presentation. Each slide in his presentation is also implemented and reiterated in other defensive coach's player manuals.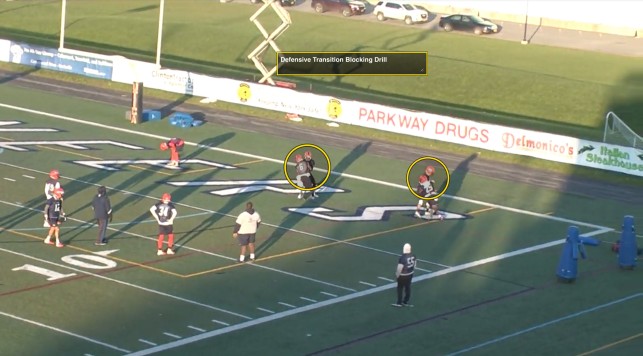 First is our defensive philosophy which clearly states who we are and how we will be successful. A list is provided for the players to visualize.
We will be successful when:
We run to the football

Tackle with leverage

We create turnovers

Focus and communicate through the ups and downs of the game.
These points are reiterated by the staff throughout the season.
Next, as a staff, we felt that it is important to have universal verbiage that can be used by the entire defense and staff. To make these short quotes known we use them regularly in practice and in games.
"Run to the football"
"Finish at the football"
"Numbers score"
"Beat the block"
"Get another play"
"Beat the momentum"
Yes, you will hear these quotes consistently from the coaching staff throughout the season. If you want your team to share the same mentality, you will hear these quotes from players communicating with each other. That is when your defense is on the same page and a takeaway culture has truly been implemented.