By Jason Their
Defensive Coordinator
University of Mary
Editor's Note: After collegiate coaching stints at a variety of levels, Jason Thier joins the University of Mary as the Marauders defensive coordinator for the 2014 season, where he once again will have the opportunity to work with U-Mary head coach Josh Kotelnicki. Thier (rhymes with fear) served as inside linebackers coach at the University of North Dakota in 2013, where he coached an all-conference linebacker. Kotelnicki was the defensive coordinator for UND that season.

The defensive coordinator at NAIA Division I University of Montana Western for two seasons (2011-12), Thier was also responsible for linebackers one season and defensive backs the other. In 2011 the defensive secondary was ranked second in the Frontier Conference and the squad had an all-conference defensive lineman and linebacker. The 2012 squad doubled its win total from the previous season, takeaways increased by 13 and a defensive back earned all-conference recognition.

Thier began his full-time coaching experience at Augustana College as a graduate assistant, working one season with defensive backs and a second with linebackers while also serving a year as the video coordinator and kickoff coordinator. In 2009 the Viking finished 8-4 overall to place third in the Northern Sun and earn a spot in the Mineral Water Bowl. Augie followed up with a trip to the NCAA Division II quarterfinals in 2010, posting an 11-2 record and winning a playoff game for the first time in school history. Three of his linebackers earned all-league honors and one was all-region.
Introduction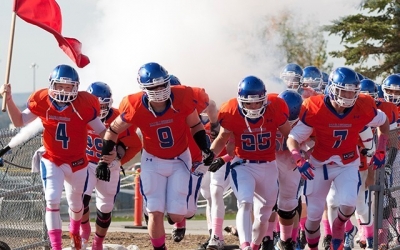 "Relentless off the ball, to the ball, and after the ball." I first heard this phrase entering my senior year at Truman State University in 2008. At the time it seemed like just another coaching slogan, something used to motivate players to play hard. Six years later, that single phrase embodies my entire philosophy on the way defensive football should be played. Relentless off the ball (keys and reads), to the ball (pursuit), and after the ball (tackling and takeaways). In January of this year when I was hired as the Defensive Coordinator at the University of Mary, that was my first message to our defense. Above everything, the style of defense that we play is more important than the scheme that we install. Having just completed our first spring ball, myself and our defensive staff put a major emphasis on just that; pursuit, tackling, and takeaways. Throughout this article I plan to explain how we teach pursuit angles, categorize tackles, and when we believe going after the ball should be the number one priority.
Pursuit
I know that every defensive coach in the country talks to their players about the importance of pursuit, but talking about pursuit is not enough. You must set a clear standard for what proper pursuit is, demand that players reach that standard on every play, and be willing to do the work as coaches to grade and regulate this standard for each player on every snap. At the University of Mary pursuit all starts with a mindset that good things will happen when we are around the football. The more players around the ball, the better chance we have to eliminate extra yardage after a missed tackle, create takeaways, and recover the ball. The standards we set for pursuit are simple but high; a defensive player's commitment to his teammates can be measured by his distance from the ball at the end of each play. This standard gives our coaching staff a clear way to evaluate the commitment of every defensive player on the field. They were either running after the football or they were not. Players are not rewarded or praised for proper pursuit; it is an expectation, a non-negotiable item. However when a player is not executing proper pursuit, it is addressed as a LOAF. Every player on our team is given the definition of a LOAF before the first practice so there is no debate about what equates to a LOAF.
What is a LOAF?
When a teammate passes you up on the way to the ball.

When you change speeds – going from 2nd to 1st gear based on realizing the ball-carrier isn't down.

When you get cut or fall down and you stay on the ground. Get up on your way down!

When you are rushing the passer or in coverage and you don't "turn and run" when the ball is thrown.
Again, what good are standards if coaches are not going to regulate and demand that they are reached? After every practice as a coaching staff we grade each play for LOAFs and keep a running count on every player. The LOAFs are then posted the next morning outside our locker room for everyone to see. It may take extra time from the coaches when watching practice, but you get what you emphasize. We have seen great results from posting the LOAFs, because players start to hold one another accountable for their effort. There is no bigger motivator in a football locker room than peer pressure and no one wants to be questioned by their teammates on why they had multiple LOAFs the day before. As a matter of fact, we have even seen players get upset over LOAFs and demand to see the plays that they LOAFed on. I was elated to see this because it showed a real pride in performance. Pursuit was no longer something we were talking to our players about, it was something our players were demanding from one another.