By AJ Blum - @aj_blum
Co-Defensive Coordinator
Westfield High School (TX)
Editor's Note: Coach Blum is in his 6th season at Westfield High School (09-present) as the Co-Defensive Coordinator, Defensive Tackles and Off Season Coordinator. Prior to Westfield, he was the Defensive Line Coach/Off Season Coordinator at Klein Forest High School (04-08). Blum started my Texas High School coaching career at Livingston High School as the Varsity Linebackers Coach (03). He has been part of a playoff qualifying team (05), Area-round qualifier (06, 07, 08, 09), Regional Qualifier (11), and Regional Quarter Finalist (12, 13). During his 12 years of coaching, Blum has been blessed to coach 3 High School All Americans, 3 Greater Houston Touchdown Club Player of the Year finalists, 5 All State Football players, 6 District Defensive MVP's, numerous All-district football players and 27 young men who have gone onto the collegiate level to play.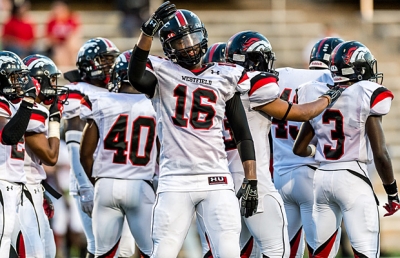 Defensive line play is paramount for overall defensive success. Although there are numerous different ways to teach fundamentals, I always revert back to keeping it as simple as possible. Extraordinary play occurs when great fundamentals are combined with unbelievable effort. The guidelines I use to cover all bases are remembered by the initials "S.A.K.A.". In order to be a great player, he must have a great Stance. For defensive success to occur, the front must be properly Aligned. A player must know what his Key is and how to attack it. Finally, the defensive lineman, must know his Assignment. These 4 components are the backbone to success and as previously stated, when combined with unbelievable effort, result in success up front.
When referring to block destruction there are multiple issues/questions that can be asked and emphasized. When people ask me the why's/how's of this topic I try to refer to a sequence that can easily be evaluated with players.
Ball get off- How well are the players reacting to the snap? When they get off the ball are they taking a short step to enable them to change direction or is the first step too long caused an elongated base? How far are the players off the ball? Personally I'm a crowd the LOS guy because we base out of an attacking front. What is stance like prior to snap? It's tough to ask someone to attack with a flat back.
Attack points- Where are you telling players to attack? Most schemes work on half the man but the biggest mistake made is when players are practicing on bags/sleds they attack the middle. If a player is attacking half the man, essentially the inside hand should target the breast plate of his opponent and the outside hand on the shoulder/bicep area.
Emphasis after contact- Every defensive lineman "cries" about being held…my response to that is did you "shock and extend"? Most of the times the answer is no…SEPARATION EQUALS SUCCESS…no separation/no excuses…
Block recognition- What is it? Down/Reach/Base? Players should know how to attack each one and their progression of getting to the ball. If it's a down, player needs to attack and drive. I tell my players this is where you basically turn into an "offensive lineman"…if it's a base, shock/extend and force ol back in the hole…if it's a reach, attack through the outside shoulder, lockout, separate, long arm/short arm, rip release and get to your pursuit landmark- NOT the ball.