By Mike Kuchar
Senior Research Manager
X&O Labs
Twitter: @MikeKKuchar
Introduction:

The construction of Virginia Tech's Bear package came in the result of a visit that Defensive Coordinator Bud Foster made as a guest to the University of Mississippi last spring. Rebels Defensive Coordinator Dave Wommack, who based out of a three-down front, was experimenting with a five down front in order to better defend the interior run game he was seeing in the Southeastern Conference.
According to Foster, what Wommack was doing was having his edge players, or defensive ends "wire," which means read the guards in order to fit inside on any run schemes.
Foster loved the idea, but with the speed of the quarterbacks on Virginia Tech's upcoming schedule (Ohio State, Georgia Tech, Duke, etc.), he was concerned about the quarterback perimeter run game. He had to find a way to accomplish two tall tasks: load the box to stop the interior run, yet be sound enough on the perimeter to defend the read option game. So when Foster got back to work in Blacksburg, he hit the lab to try to find a way to mesh what the Hokies were doing with its three down package, which was mainly used on third downs, to Wommack's concept. A few days later, the birth of the Hokies' Bear package came to fruition.
Advantages of the Bear Package
It was called a Bear package because of the presence of two 3-techniques on the line of scrimmage, which will be detailed below. Having two 3-techniques on the line of scrimmage negates any combination blocks at the point of attack, which is foundation of the one-back gap scheme run game infiltrating college football today. It was built off the former Chicago Bear defensive coordinator Buddy Ryan 46 defense philosophy, to create as many one on one blocks at the point of attack as possible, and just coach your players up on the back end better than your opponent.
Like many defensive structures, we found the Bear package to be more of a philosophy rather than a scheme. In Foster's words, "I can't win by giving up 35 points. That would piss me off. I don't want the offense to have [expletive]. I'm not a bend but don't break guy. I make the quarterback have to make good throws with pressure in his face."
According to Foster, the entire premise of the Bear package is to get +1 in the box to defend quarterback option teams. Its coverage structure is man heavy, so part of the decision in implementing it is having the guts to play with one or sometimes no high safeties in the middle of the field. Many times, Foster would play his remaining free safety in a "cheat post technique" which allows him to play both run and pass responsibilities based on his post-snap key. "You have to play with a free hitter somewhere," Foster told us. "If you can't expect guys to come off blocks and make plays against dynamic players, you are barking up the wrong side of the tree."
Personnel
Base Package (Diagram 1)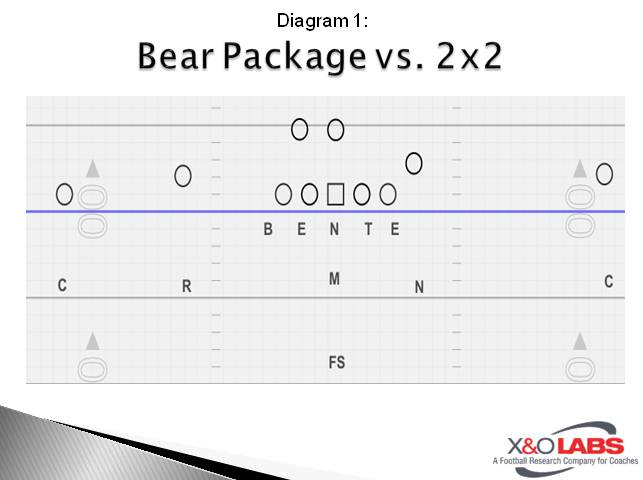 The base Bear package consists of the following personnel:
Two defensive tackles who are interchangeable. Whichever tackle is on the same side of the backer (usually into the boundary) will align in a zero technique on the center. The defensive tackle who is away from the backer will align in a 3-technique.
Two defensive ends who play left and right. Whichever defensive end is on the same side of the backer (usually into the boundary) will align in a 3-technique on the guard. As shown on film, the threat of a defensive end type as an interior player can cause a repeated disturbance in pass protection. "You have a dynamic kid who is a 3-technique on a guard who is not used to seeing that kind of quickness," said Foster. "It's a mismatch. Even if they try to switch block with the center it's hard." The defensive end who is away from the backer will align in a loose 5-technique on the tackle (in a stand-up position) and will be the force player to his side of the formation.
Backer -- Virginia Tech's weak side inside linebacker who will align into the boundary or away from the passing strength of the formation. He will align in either a loose 5-techique (for a two-man surface) or a loose 9-technique (for a three man surface). We asked Foster about the cross training of this player to be both a box linebacker and a perimeter player. "You are using defensive ends inside that are very twitchy at 270 pounds who can get off the ball and are strong," Foster told us. "The backer and defensive end will play in a two-point stance, so they can see pullers. If the back is to him, he tightens his alignment down. He will squeeze down if the tackle blocks down. If the tackle blocks out, he's going to free his outside arm to play force." The backer will be the force player to his side of the formation.
Mike -- The middle linebacker is the linchpin for this defense as he will be unblocked a good portion of the time. He will align in a zero stack position (directly behind the center) at 5 to 6 yards in depth depending on the position of the single back, which we will explore more in case two.

Rover -- This is the weak safety in Virginia Tech's defensive scheme. He will align to the boundary or away from the passing strength and will mainly handle the responsibility of playing the number two receiver to his side, which can be a tight end or open receiver. This player can be interchangeable with the free safety depending on game plan.

Whip/Nickel -- This is the strong safety in Virginia Tech's defensive scheme. He will declare himself to the passing strength of the formation or to the field. Foster would use a Whip (linebacker type) against 21 or 12 personnel teams and a Nickel (corner type) ag