By Ryan Lucchesi
Defensive Coordinator
Muskego High School (WI)
Twitter: @CoachLucch
People often ask what is the most challenging offense to defend. Our response would commonly be the one with a mobile QB that can impact the game both in the design but most dangerously in the improvised run game. The ability to extend plays, challenge rush lane discipline, and evade rushers can be problematic for every level of the defense.
We operate from a 3-3 Stack base defense. We are not a huge blitz team. When we pressure, it is normally sending 4 and will rarely, but occasionally, bring 5. Historically, we have relied on quality rush lane discipline from our D-Line and blitzing players to keep QB's contained. We have also emphasized coaching up our MLB to be an effective Spy / quasi 4th rusher against QBs that are running threats.
During a game in the middle of our season, we came up short in our objectives. We allowed a QB to beat us consistently with his legs. Most of the time for crucial 3rd down conversions. Other times, it was on 2nd downs that created more manageable 3rd down opportunities for the opposing offense. We struggled to execute what we have in previous seasons. We needed an adjustment to put our kids in the best position to be successful.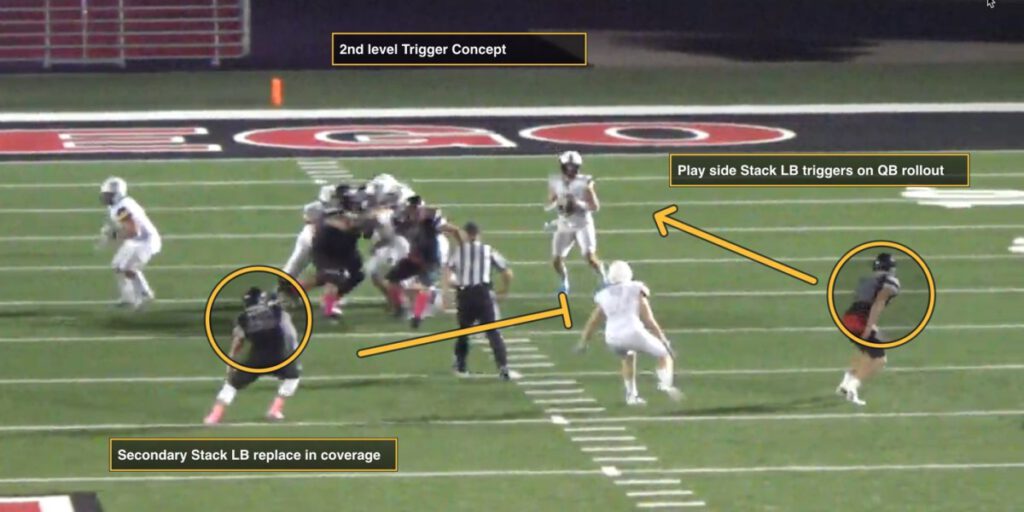 Implementation:
2nd Level - Inside Linebackers
The primary focus of this article is solving these problems created by a mobile QB with our 2nd Level Trigger concepts for our Inside Linebackers. We will briefly touch on some games that we will play with our D-Line as well. As far as our 2nd level goes, the focus turned from solely having the MLB be the player responsible for QB scramble, and the other two Stack LB's became major focal points.