By Mike Kuchar
Senior Research Manager
X&O Labs
Twitter: @MikekKuchar
Introduction
For clarification purposes, the open side run game consists of concepts attacking the two-man surface side, away from the tight end or strength. The runs we focused on researching were specifically the spread option game, which encompasses the zone read and power read run game. Because there are different runs designed to both sides of the offensive formation (closed and open), most odd front coaches use different types of personnel to play these two positions.
Characteristics of the Boundary Side (two-man surface) Defensive End
The fact is there is a distinction between the two defensive ends in an odd front defense. Most odd front coaches will rotate their defensive ends based on either field/boundary or closed/open surfaces. While the positioning of this player may vary based on his skill set, we found that the majority of odd front coaches, 51 percent, teach a 4-technique alignment (head up the offensive tackle) for their boundary side defensive end.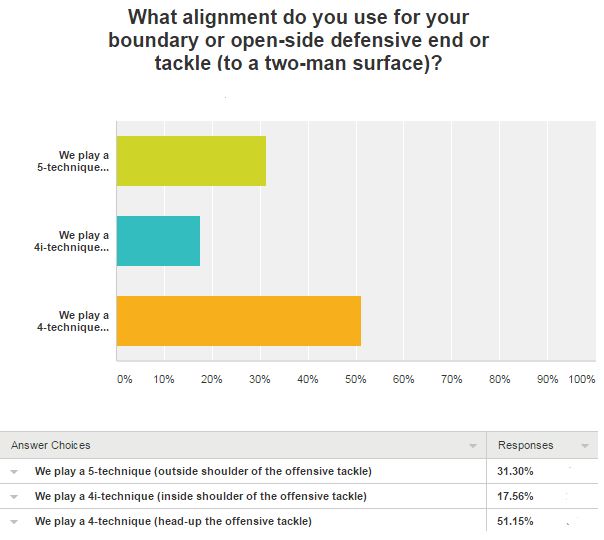 In most cases, this boundary end tends to be a thicker player who has the ability to reduce down and play a 3-technique on the offensive guard. As documented in case four, when most odd front defenses reduce, they will do so to the boundary, putting this player in the B-gap. We researched coaches to find what they were looking for in developing an open side, or two-man surface defensive end. Some of their responses are below:
Coach Gardner, Sandy Valley High School (OH): "We put our best athlete on the defensive line here. He will run down a lot of plays from behind like getting into hip pocket of a pulling guard. Has a ton of tackles for loss. We allow this position to get up field more than others."
Coach Sturgis, Clinton Central High School (IN): "Most of the time our open side defensive end will end up crashing into the B gap, so we look for a bigger body (4-3 defensive tackle what we call a 3-technique) for that position. He will occasionally be the end defender on the LOS, so he has to be able to move as well."
Coach Acquarulo, defensive coordinator, Trinity College (CT): "He is a stout player for us. We reduce with him a lot. He plays in a 5-technique. We used to play him in a 4-technique, but we got to the point where we were rotating them between 5-techinque and 4-technique to get a pass rush. Now we tell them that if they are moving post-snap, we will tighten up our alignment. It doesn't tell the offense where we are going post-snap."
Coach Giancola, Westfield High School (VA): "In terms of characteristics of our ends in the odd front, we are looking for a few different things: 1) Great Block Recognition, especially Run/Pass reads. As a 4-technique, it is essential to be able to read the difference between a low hat firing off the ball and a high hat kicking off the LOS. As our 4-technique rules dictate, our ends need to fit inside to B gap on base run blocks, whereas we prefer them to initially work outside when they get pass sets if we are not bringing pressure. 2) Intelligence. We need smart football players at our end position in the odd front. They need to be able to quickly diagnose blocks and react with speed and strength, understanding where they fit into the grand scheme of our odd front structure. 3) Great reaction skills. Twitch from all of our defensive linemen is ideal, but our 4-techniques need it to assure they are putting themselves at an advantage early in the play."
Coach Busmente, Sterling High School (CO): "It has varied from season to season, but if we had an end that was more athletic we would use him here."
Coach Filho, Santos Tsunami: "He must have a quick first step with the ability to win one-on-one matchups against the offensive guard in pass rush and be quick to disengage and make the play."
Coach Winstead, South Pointe High School (SC): "We look for a bigger body type, more of a 3-technique. We move our boundary end inside a lot."
Coach Godwin, Gulf Breeze High School (FL): "Has to be a great B gap defender on the boundary side. He is a bigger stronger kid than the open side defensive end. He cannot get washed down when playing B gap."
Coach Pitman, Half Hollow Hills West High School (NY): "Discipline is key. They must be able to play hands on the offensive tackle while keeping their eyes inside. The ability to read and react is crucial. Their whole world is determined by what they see and feel."
Coach Coldirion, Mira Monte High School (CA): "He must be strong enough to take on a offensive tackle and quick enough to close down on a running back or quarterback when the play is going away from him."
Coach Rector, Central Catholic High School (OR): "Quickness off the ball at the snap. We want to execute a 40-yard dash through tackle. He must be extremely efficient with his hands and hand placement. Key progression - man, near back, backside lineman."