By Joey Ginn
Head Coach/Defensive Coordinator
Bethel High School (OK)
First off, I would like to begin by thanking Mike Kuchar and Adam Hovorka for what they do with X&O Labs to further the learning opportunities for coaches to develop. I would also like to take this time to mention/credit my staff, these guys have gone above and beyond in trying to change the shape of a program that isn't exactly known for success on the gridiron. James Mangram (OC/OL), Lincoln Dearing (WR/DB/Special Teams Coordinator), Stony Burt (DL/RBs), Jason McPhail (OLBs). I spent this last year coaching our LBs, and QBs and calling the defense as a head coach.
We are a small 3A program in Oklahoma and had just 37 players this year. We were very young the last 2 seasons, my first two years as head coach. My first year here coming from a 6A program where we had 100 + players in 10-12th grades and coming here where we had 42 players 9-12 in my 1st season and 37 players 9-12 this past year was an adjustment. At the 6A program, we had a split staff of 10 coaches, we practiced our varsity and JVs separately, we had a separate 9th grade staff and they held their own practices. Another advantage we had at the larger program was we had several one-way players, for instance, all but one of my linebackers at the 6A school practiced and played defense only. I was two deep at every position also. When faced with 37 kids 9-12 as opposed to 100 players in grades 10-12 and another 40 freshmen, there are some adaptations that had to be made. My first year we were an Odd Stack team with split field coverages in the back end, because that's what I believed in. However, as the first season moved on, I made the decision we had to do what was best for our personnel and what I believed in better fit the kids I had in my program.
The Transition
Entering the off-season, we returned our Mike linebacker, and a to-be-sophomore who had played a little bit of inside linebacker for us as a Freshmen. We also returned our strong safety/linebacker hybrid who we called Bandit in our 3-3-5 Scheme. We had a to-be-freshmen kid who I felt like could play a linebacker for us, but I really wasn't sure. We had a wrestler coming out who I felt like could be pretty good, but I had never seen him play football before. Therefore, we had to go to the drawing board to figure out what we needed to do to fit our personnel best. I knew two things were going to remain no matter what: split field coverages in the back end, and an attacking Odd Front. We looked at several things believing we were an inside linebacker short to allow us to play our Odd Stack. We felt like the to-be-Sophomore just wasn't yet aggressive enough to be a Stack LB in our true 3-3-5 scheme. We had used him, however, as a DL as a 9th grader, so we knew he gave us the ability to be multiple in our looks by putting his hand down on occasion. With this we began putting together a plan. How could we maintain our structure and aggressiveness defensively with 3-3-5 personnel, maintain Split Field Coverages in the back end, yet not have that 3rd Stack linebacker?
Upon research/study, we thought we found our answer. We looked high and low, and drew several different things along the way, but mostly what helped us the most was putting pen to paper comparing our 3-3 stuff side by side to 3-4 stuff, maintaining our Split field coverages. What we would do was line up in a 3-4, we would use our Bandit as a Sam on the passing strength side, he would always travel with the free safety and play OLB to the passing strength. Our Mike LB would simply be a 30 LB on the strong side, our Will would move to a 30 LB on the weak side and we would create a "Jack" LB position that would travel opposite the passing strength (Diagram 1). This we felt would make lining up even simpler as a defense as it balanced us up, and formations could no longer give us alignment issues such as double tight did in our 3-3-5. Our free safety could make the passing strength vs. what we call a slot set to the true passing strength rather than to the TE in our 3-3-5, this made us more-sound as we had more of a LB on the weak side of the passing strength to be able to tighten down to a 9-tech. vs. a TE and still had 3-on-2 to the two quick receiver side (Diagram 2 & 3). We would still call the front the same way we had the year before by calling the tackle (strong end) and end (weak end) using a double-digit call and telling the nose he played the high number side (Diagram 4).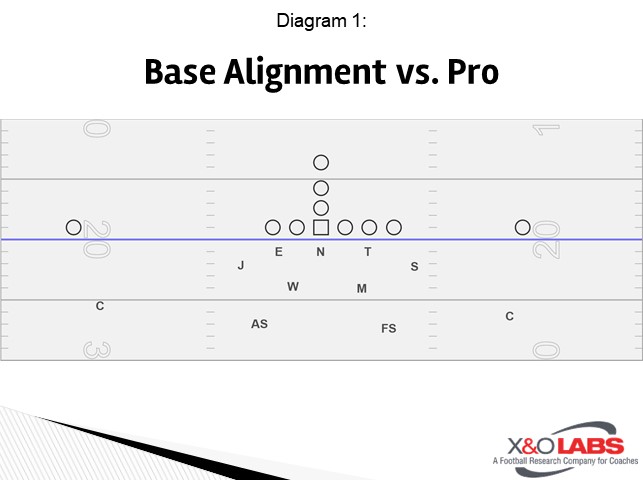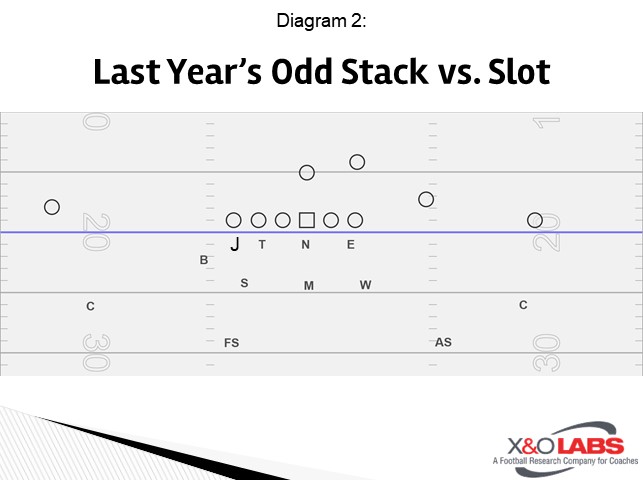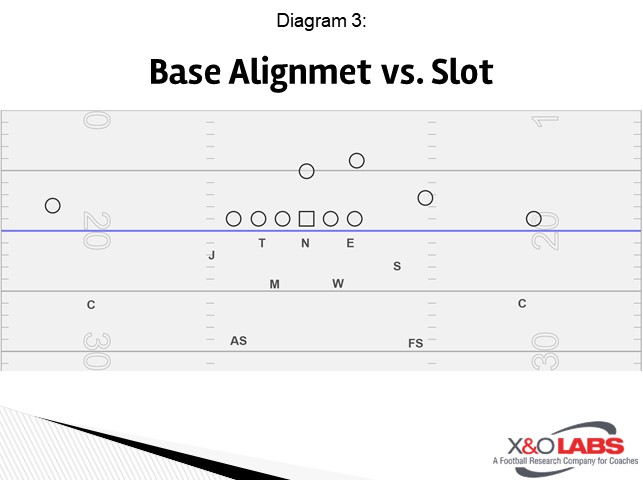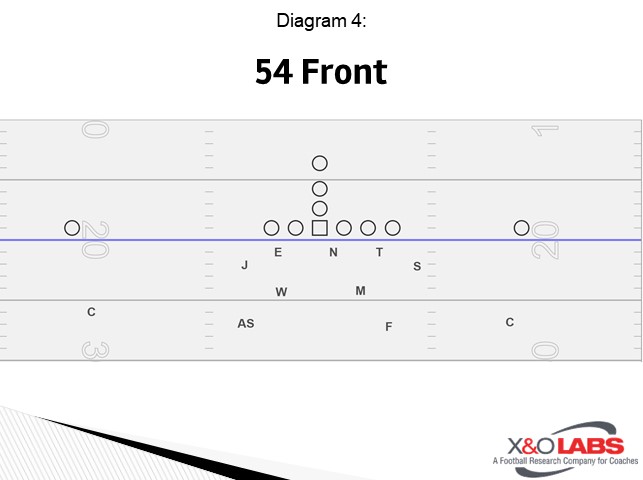 Another advantage with this transition we felt was the ability to install some Even front looks and even an Under look that I grew up in coaching defense with. This was very simple out of our 3-4 Front the way we had installed it. We made two calls that talked to only the Jack: "Tight" told him to travel with the strength of the front he had 2 simple rules. 1.) If the tackle is in a 4-tech., you're in a 7-tech. with your hand in the ground. 2.) If the tackle is in a 5-tech. you're now a stand up 9-tech. This gave us the ability to vary our look giving us a 4-2 look with the very same 3-4 personnel on the field. We changed nothing for the secondary here (Diagram 5 & 6). The other Even look we created was a "Walk" call. "Walk" told the Jack again he was on the Weak side lined up in a stand up 5-technique. The call we used to go with a "Walk" call front-wise was 53 Walk (Diagram 7), we told the free safety in Walk he had to call the passing strength to the front strength when we were in Walk vs. any 2x2 set this put us where we needed to be vs. a Slot set as mentioned earlier (Diagram 8).