By Adam Hovorka
Managing Editor, X&O Labs
Twitter: @XOLabs_Editor
As detailed in the first three cases of this report, there are several techniques the Anchor has to master. The challenge is being able to teach and rep all of these techniques in a streamlined practice plan. At Stony Brook University, Coach Noel is the only defensive line coach. Which means he cannot solely work with the Anchors. His time is split between working with the entire front. And it is this collective mindset that Coach Noel uses when developing this player. "We think of this position as defensive lineman first and foremost," he told us. "He will do all defensive drills with this group and build from there. He does not have his own position coach; he is part of the defensive line unit."
Delegating Practice Time:
Having said that, Coach Noel will get him extra reps at times when he builds them into his practice plan. It is usually during special teams segments where Coach Noel will steal time with the Anchors to work all of those run fit techniques (fold, lag and hold) detailed in case two. "There will also be times when we break up the tackles and ends," said Coach Noel. "I will take the ends and Anchors and work with them and do some drills because they do a little bit different things in regard to pass rush, but I don't think you need a different coach completely."
"We do almost the exact same technique, execution, and everything across the board at all four spots. We teach the same pass rush drills and the same block destruction drills. We do the exact same footwork on get-offs and all the stuff that we already must do. Now there are some specialized things that he must do. He's the only guy that's going to be in covers for us 95% of the time so I don't take individual time to work pass drops."
One of the more essential periods the Anchor will get is dividing his time between getting one on one pass-rush with the offensive line and working pass skelly with the back end. He will often be involved in the 7 on 7 for the first five minutes- where the coverages he usually involved in are scripted- than he rotates with the backup Anchor so he can work pass rush with the rest of the defensive line. "He'll come down to do pass rush and the other guy will go get a few reps in pass skelly," said Coach Noel. "Then we'll send them down there for seven on seven and they'll get reps pretty much every single day. We also don't try to over-coach that guy too much when it comes to that kind of stuff. We give them landmarks, and give them easy things to remember."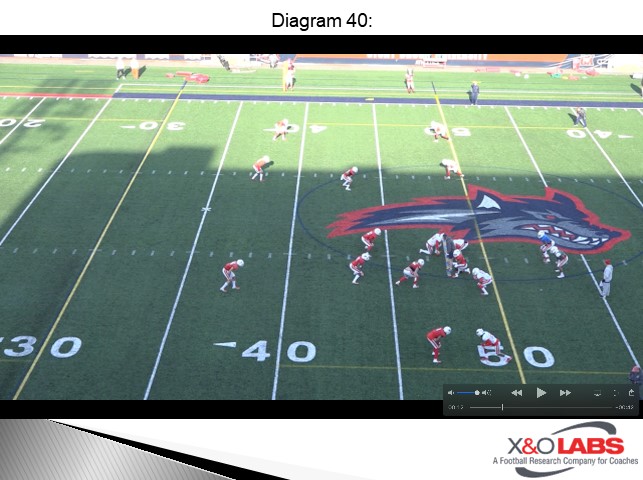 There will be game specific concepts that Anchor will be taught based on the opponent and Coach Noel and linebacker coach Matt Hachmann work to carve out time to get that accomplished. "We may do some circuit training with him (detailed below) to change things up," said Coach Noel. "We may have something in that week from the 3-down front where the Mike and Anchor have the same responsibilities dependent on flow call, and Coach Hachmann will take the Anchor for the period. There will be other times when we are teaching all the other guys to pass rush technique. We will occasionally want to know if we got a linebacker that we want to rush on third down sometimes so they will come with the defensive line and we'll teach pass rush to him. We really just teach speed and speed to power and then little intricacies off of that, some counter-moves, and the long arm."
Seawolves Agility Circuit:
Because this Anchor gets cross trained in Stony Brook University's system, it's important that he continue to develop the agility needed to play both run and pass. On any given snap, he'll be asked to play a zone in coverage, play a man technique in coverage, rush the passer or play a run fit. So, a good deal of time is spend working on the dexterity needed to change directions mechanically. One of the first drills Coach Noel will do with these Anchors is work on their lateral movement skills.
Lateral Shuffle Drill: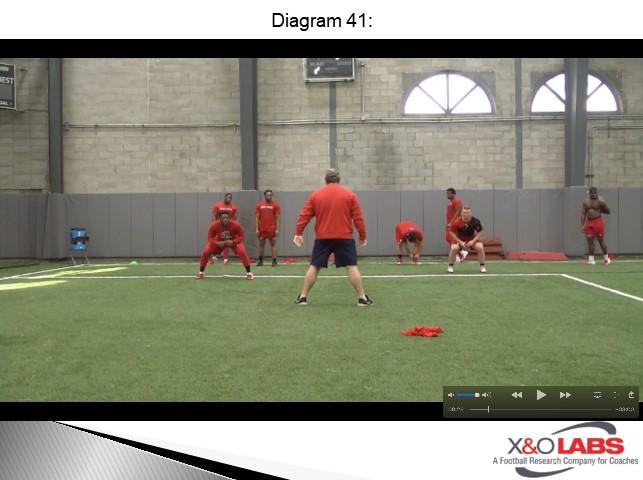 This drill emphasizes the lateral movement needed to play this position. After the shuffles are executed, defenders will burst downhill to simulate getting home in the pass game or the approach on a ball carrier.
To study film of this drill, click on the video below: