By Adam Hovorka
Managing Editor, X&O Labs
Twitter: @XOLabs_Editor
From a coverage perspective, the Anchor will be asked to handle several responsibilities. In the majority of situations, he'll be assigned to play the weak flats or match the number one receiver into the boundary. But he will also be asked to carry some sort of spot drop on a field area such as a hash dropper or middle of the field dropper. These techniques are often utilized in Stony Brook's drop eight (five under, three deep) coverages and zone pressure (three under three deep) concepts. "We give him landmarks of where he's going to drop depending on what the coverage is," said Coach Noel. "And we will vary between teaching him zone eyes and man eyes."
Coach Noel mentioned that he doesn't spend a lot of time drilling coverage techniques. Many of the teachings are done off of the film. "In zone coverages, we emphasize our eyes either looking more at the quarterback or getting more depth. We will talk through routes a little bit at that time. It is just teaching them offensive football, that's what we try to do more than anything with the coverage part of it."
In this case, we segment our research based on the following:
Man-coverage responsibilities

Zone coverage responsibilities
Man-Coverage Responsibilities:
Stony Brook will ask the Anchor to play some man coverage but will only be asked to do so against a tight end or running back. "We will try to never have him matched man on a slot receiver," Coach Noel said. "We do this if we think he can match up and run with the tight ends and or the back. We work to keep our eyes are on him and run with him wherever he goes. The important fact is if we have a matchup that we can live with athletically?" In instances when the Anchor has to play the number two receiver, he may make a switch assignments with the safety. The safety would handle the slot and the Anchor would play the back.
Blitz Engage on RB:
When the Anchor is responsible for the back in coverage, he will execute a wrap rush technique if the back blocks. "When the running back steps up to block, he's no longer a threat so our blitzers will add onto the pressure."
The clip below is a good example of how the Anchor wraps into pressure. Here he's responsible for the back man to man. The back stays in and blocks, so he adds onto the pressure and gets a stack.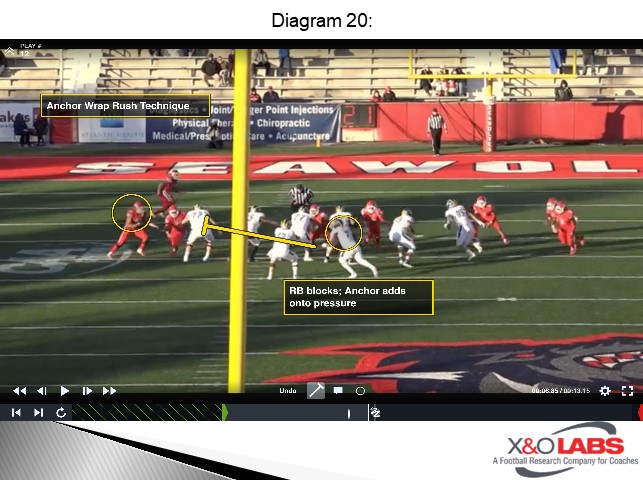 "We don't waste a guy on him, he adds in once he sees the block is taking place," said Coach Noel.