By Mike Kuchar
Senior Research Manager
X&O Labs
Twitter: @MikekKuchar
Editor's Note: The following research was part of X&O Labs special report on "Linebacker Fits in the 4-2-5 Defense." Scroll down to see how you can get a free copy of X&O Labs' best-selling book, "The 4-2-5 Defense Study", mailed directly to your home or school.
Introduction: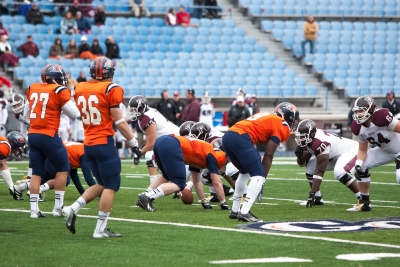 Bucknell University prides itself on stopping the run. In fact, they have been in the top ten in total defense at the FCS level the last four years in a row. Operating out of a 4-2-5 structure, the Bison rely on the pre and post snap movement of the Y to dictate where its linebacker fit in run game. Mike Kuchar sat down with Linebacker Coach Brad Fordyce to talk about how he fits common one back run concepts such a Zone Read and Power Read.