By Joe Ginn
Defensive Front Coordinator
Choctaw High School (OK)
Twitter: @CoachGinn
Introduction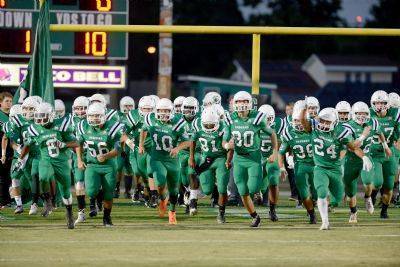 Each game plan is different, but there is something about defending one-back trips teams that makes things especially nuanced. Over the past few years, we have found that our swap and vegas calls are a perfect solution to attack these schemes. Here is a bit of the background.
A few years ago, we were playing a very dominant run team. They had 5 outstanding linemen, highlighted by a right tackle who just committed to play at Nebraska. They were also forced by injury to move a third tackle to tight end, giving them six outstanding linemen up front. They came into the game averaging 45 points a game and 271 yards a game rushing on 41 runs a game. We knew going in we would had to stop the run to give our kids a chance to win the ballgame.
We knew we had to find a different way to get an extra hat in the box against their one back offense, which almost always had a tight end in the game. We also wanted to ensure that our extra hat was to their trips side, which was most of the time where they ran. They ran two different types of trips sets, strong and weak trips which I'll diagram later. This game was probably one of the biggest games in our program's history. A win would give us a chance to host a playoff game, and our school hadn't even been in the playoffs in 30 years.
Swap vs. Strong Trips
Our secondary had a pretty simple week, as we knew playing cover number three to the trips side. This would give us a safety dropped down on the number two receiver and another safety aligned inside the number three receiver. The result is that we can keep our three linebackers in the box, giving us seven in the box to stop the run. They didn't normally pass to the #1 receiver, so we felt like we could keep a corner matched up on the back side one on one.
The largest adjustment with our swap call against strong trips was only our front (Diagram 1). All "Swap" did was change the alignment/responsibility of our Strong side End and Sam LB. Instead of the End being in a 7-technique and Sam playing a 90- technique, Swap moved Sam to a 70-technique and the strong side end out to a 9 technique.