The 4-2-5 Study: Case 2
Question and Answer Session
By Mike Kuchar
Senior Research Manager
X&O Labs
When we first compiled our research on the 4-2-5 defense, you (our readers) had specific questions. So we provided specific answers by going right to the source, selecting three of the more prominent coaches that run the scheme (all of whom you asked us to contact). Mike Kuchar, X&O Labs' Senior Research Manager, spoke exclusively with each of these coaches, asking them YOUR questions - their responses are below. Our goal was to get a FBS coach, an FCS coach and a D-II coach.
Meet the Coaches Interviewed:
Bud Foster (BF): Regarded as one of the top defensive minds in the game, Bud Foster enters his 26th season at Virginia Tech. The 2006 Broyles Award winner has helped mold nationally ranked defenses on a yearly basis during his 17 years as a coordinator. Foster, who was a finalist three previous times (1999, 2001, 2005) for the award given to the nation's top assistant football coach, has gained a well-deserved reputation as one of the nation's most respected defensive coaches.
Mickey Matthews (MM):During his 13 seasons, Mickey Matthews has firmly established James Madison University football among the nation's leading Football Championship Subdivision programs. While becoming the winningest coach in JMU football history, he has led the Dukes to an NCAA championship (2004) and to five other playoff appearances (1999, 2006, 2007, 2008, 2011). Matthews three times has been National Coach of the Year (1999 Eddie Robinson Award by The Sports Network; American Football Coaches' 2004 award; 2008 Robinson Award and an award by Liberty Mutual) and was Atlantic 10 Coach of the Year in 1999 and CAA Coach of the Year in 2008.
Chris Brown (CB): Chris Brown enters his second season as head coach of Fort Hays State in 2012. Brown came to Fort Hays State from Washburn University, where he served as the defensive coordinator and defensive secondary coach from 2002-2010 and assistant head coach in 2010. Before coming to Hays, Brown helped Washburn compile a 62-41 record in his nine-year span with the program, which included two NCAA playoff appearances and two bowl wins. In his time at Washburn, Brown coached the 2009 and 2006 MIAA Most Valuable Defensive Players and guided two players selected in the NFL Draft (defensive tackle Trey Lewis - 6th round 2007, and cornerback Cary Williams - 7th round 2008). Brown also coached six All-Americans, 20 all-region and 41 All-MIAA selections at Washburn. His defense led the MIAA in turnovers gained in three of his final four seasons there, including a school record-tying 23 interceptions in 2007.Brown learned the scheme from sitting down with Jerry Kill, now the head coach at the University of Minnesota and with studying what Bud Foster was doing at Virginia Tech University. And to take it a step further, Brown is a three-time All-American at Free Safety in the 4-2-5 defense as a collegian at Pittsburg State University.
Questions & Answers:
Mike Kuchar (MK): What has changed most in the 4-2-5 defense today from when it was a 4-4 defense? How has it progressed?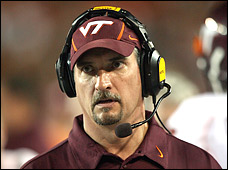 Bud Foster, Defensive Coordinator, Virginia Tech.
Bud Foster (BF): We've gone around and around with this. The Whip position (Field Safety) has become more of a hybrid for us. The Rover (Boundary Safety) and Free Safety haven't changed a lot for us. We're playing more with a true safety type guy. We'd like him to be physical enough to force the end run, but with the way offenses are designed now, you can play some man coverage with him and not put up a "red flag" by changing personnel and brining it a Nickel package. This way, you're always playing with a Nickel package. Offenses now just spread you around and match up. Those outside backer/safety players are most important.
Mickey Matthews (MM): We went from a 4-3 to a 4-2-5 because of all the one-back sets we're encountering now. It's easier to adjust with a 4-2-5 than a 4-3. If you're in a 4-3, one of your outside backers must become an adjuster, so it ends up being a 4-2-5 anyway against spread sets.
Chris Brown (CB): The game on offense has changed; it went from a 'ground and pound' philosophy to more of a pass happy game. Now we have smaller, outside linebackers/safety types that play that position. Years ago, those players were true rush linebackers with hardly no coverage responsibility. Now these guys are safeties that can still play man-to-man coverage, play half field coverage and set the edge in the run game.
MK: Describe the personnel types of your three safeties.
BF: When we recruit our Whip's (Field Safety) those are a variety of skill sets. We look for guys that can run and have some toughness because you want them to be able to blitz and force the run. You're looking for a big safety or a running back in high school because those are your better athletes. We'd even look for QB's because those are some of your smarter players and better athletes. We've even had receivers in the past play that position for us. We spill everything to them, so they need to be open-field players and have the ability to cover people in space. Our Free Safety is a flat foot reader and alley player. He must carry number two in the seam as well as play the Drag and Dig routes. He needs to also be a factor in the run game. We try to have one more defender than they have a blocker. Our free hitter must be the Rover, Whip or Free Safety.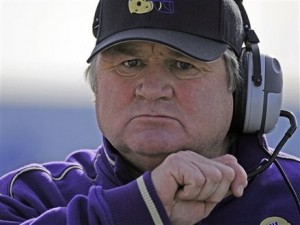 Mickey Matthews, Head Coach, James Madison University