By Mike Kuchar
Senior Research Manager
X&O Labs
Twitter: @MikekKuchar
The Tennessee Chattanooga Methodology: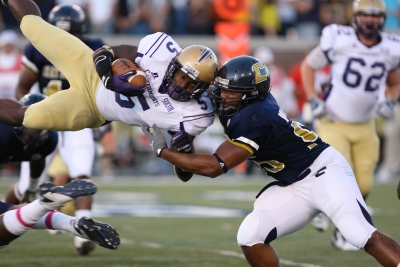 At the University of Tennessee Chattanooga, much of the one-back run scheme its defense sees comes in the form of either 2x2 or 3x1 sets which is why linebackers coach Rusty Wright has a different run fit concept for each. Coach Wright will adjust his fits based on 2x2 open/closed and 3x1 open/closed sets and will rely on his Dime defender to be the adjuster. The Mocs face a good deal of zone bluff and power read run concepts, which is why he trains his box linebackers to focus on the movement of the Y post-snap to give them their correct keys. When defending the Pistol formation, he refers to the "turn (of the quarterback) and the Yo (movement of the Y post-snap) to alert his linebackers on whether or not they play the gaps in front of them, or they fall back to play behind. This is all detailed below in case three of our special report.
Source: Rusty Wright, linebackers coach
Accolades:

Finished 4th in total defense in 2014, surrendering 277 yards per game.

Finished 11th in scoring defense in 2014, surrendering 19.4 points per game.
Personnel and Base Defensive Structure:
The University of Tennessee Chattanooga bases off a 4-2-5 structure with what Coach Wright calls "a bastardized version of cover four." The Dime will go to the field with the free safety while the strong safety or boundary safety (Diagram 42) aligns to the boundary. Coach Wright preaches his simplicity of the Mocs defensive structure based on the fact they don't move too much. Against three man surfaces, the 3-techique will be set to the field while the defensive end will play a 6-technique on the tight end. "We look like a Quarters team, but we're getting to an eight man front pretty quickly," said Coach Wright. "It's get a hat in the gap and go." According to Coach Wright, the Mocs base their fit off either 2x2 or 3x1 sets based on where the help is. The free safety is not in the fit because of the Quarters coverage structure they play behind it.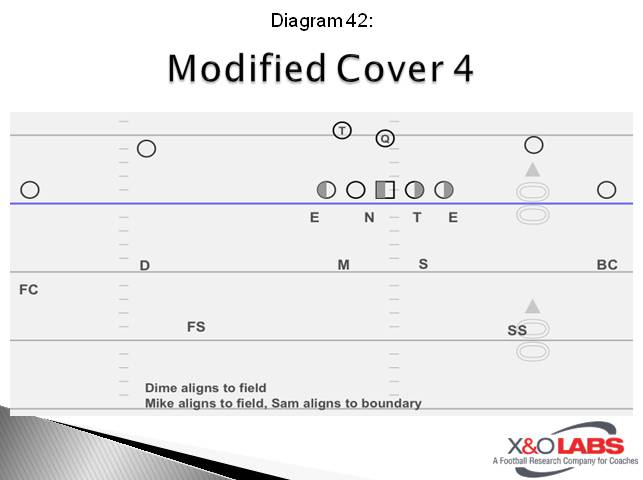 Linebacker Pre-Snap Protocol:
The Mocs play with a field (Mike) and boundary linebacker (Sam), who line up in 30 techniques on every snap. Coach Wright tells us these two players are among the smarter players on the defensive unit because their fits can change weekly. According to Coach Wright, they could be the same player, but the boundary linebacker may be a hair faster because he has to run with number two in pass situations.
Base Zone Read Run Fits:
In order to understand how the Mocs fit the Zone Read play, it's important to know that in shotgun formations, the extra defender in the fit will be the Dime linebacker who will align to the field. The Mocs based their support off where the off set back is in shotgun sets. If the back is away from the Dime, he lines up tighter because the Zone would work towards him. If the back is to him, he's a little wider to play the wind back. Like Coach Fuller, Coach Wright stressed the importance of putting two people on the wind back of the Zone. In most situations, the eighth defender will be the Dime, so the help comes from the field. If the back is set to the Dime with the zone going away from him, he becomes the C gap wind back player with the defensive end. The Mike is B gap player and the Sam is A gap player (Diagram 43). If the back is set to the boundary away from the Dime (and away from the help player), the Dime has the B gap, Mike plays the A gap and the Sam is the wind back player with the defensive end (Diagram 44). "If the back is away from them, then we call it playing behind," said Coach Wright. "The Zone comes to them so they don't have to go run it. You step and fall back into it."