By Mike Kuchar
Senior Research Manager
X&O Labs
Twitter: @MikekKuchar
The Marshall Methodology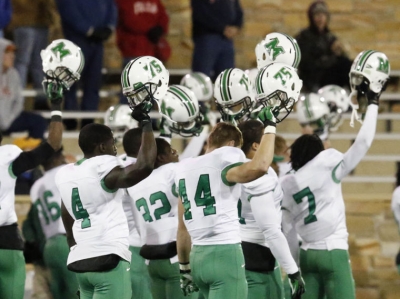 Marshall University mixes quarters coverage and man free coverage in their secondary, which means it will vary between playing the zone read game with even numbers or with a plus one defender. Because of this, linebackers coach Adam Fuller has built in concepts, which notify the read side defensive end whether or not he has help on the quarterback. Much of what Marshall does relies on the field linebacker (or Nickel) to be the extra hitter in the one-back run game, but there are several formations that stress that defender causing adjustments to be made. Coach Fuller details those adjustments and how he handles pull plays in case two of our special report.
Source: Adam Fuller, linebacker coach
Accolades:
Finished 13-1 and 22nd in the AP poll after 2014 season.

Won Conference USA title for the first time in school history.

Finish 18th in scoring defense at the FBS level, surrendering 21 points per game.

Finished 10th in tackles for loss at the FBS level, averaging 7.5 per game.
Personnel and Base Defensive Structure:
At Marshall, holding the split safety disguise is vital, considering the various types of spread offenses that are prevalent in Conference USA. Much of what Marshall does to get the eighth defender to defend quarterback run concepts is done post-snap. In its base structure, Marshall operates out of a 4-2-5 and utilizes Man Free coverage concepts 50 percent of the time and Quarters coverage concepts 35 percent of the time. The rest is delegated to Fire Zones. Because much of what Marshall does relies on a Man Free system post-snap, they will use their free hitter to the field side, whether it is the Nickel or Sam linebacker. This is needed to get the eighth defender to defend the quarterback run in the option game. They will rarely have their boundary fitter (weak safety or corner) play an interior gap in the run game.
In order to do that, Marshall will set its 3-technique into the boundary so that the field hitter doesn't need to play an interior gap such as an A gap (Diagram 26). "It's a lot easier for him to play a B gap particularly when the Zone is moving towards him," said Coach Fuller. "It's less distance to travel." It's important to note that Coach Fuller refers to Quarters fits as any two-high safety fit, which could be Quarter, Quarter Half or Cover Zero.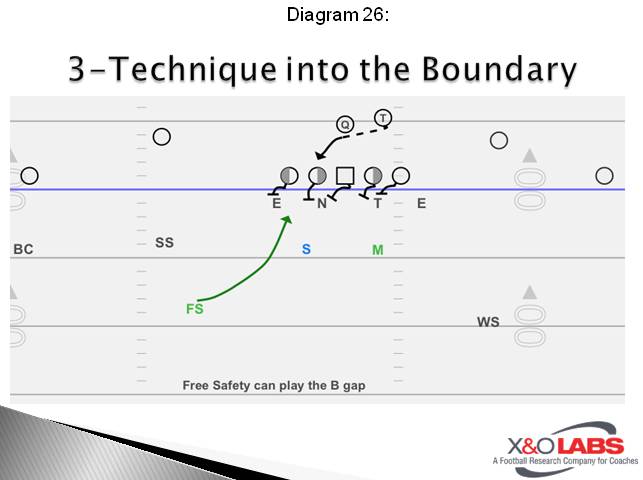 Linebacker Pre-Snap Protocol:
Coach Fuller is big on making sure his linebackers are reactionary, therefore he spends a lot of time talking to them about fit concepts and not so much coverages.
"You always have to coach the picture because that is what kids see," Coach Fuller told us. "We key the back to unlock our movement and then key the linemen to better understand what we're seeing. For example, if teams are running the tackle pull play we want to see the tackle. On the Power play, we want to see the double team at the point of attack. On the Zone schemes, we want to feel the tempo of the back. It's all based on what you see most frequently." Which is why Coach Fuller will vary his pre-snap keys for his linebackers. Any time an offense is in a shotgun set, he'll have them key near back to flow of the offensive linemen. But when the quarterback is under center, or in Pistol formations, he'll use an under key such as the line of scrimmage as a pre-snap read.
Linebacker Post-Snap Protocol:
There are three basic techniques that Coach Fuller uses with his linebackers as a post-snap reaction. They are all used in different circumstances and are described below.
Motor Technique: This is used when box linebackers get Zone action to them. The coaching point is to keep moving your feet and trying to keep feet connected to ground by gaining ground. "We talk about pounding our feet into the ground in a balanced position such as motoring our feet," Coach Fuller told us. "Sometimes they move too much on those Zone schemes. You can't move to much."