By Mike Kuchar
Senior Research Manager
X&O Labs
Twitter: @MikekKuchar
Introduction: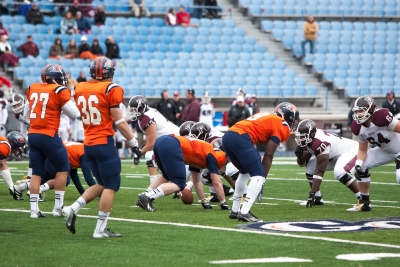 If you operate out of the 4-2-5 defensive structure than you know how vital it is to get those two box linebackers trained on their keys. In most cases, you're playing with six in the box (an unloaded box), so you need to rely on the perimeter defenders to add on to the run game to get a plus one defender against quarterback runs. But how you choose to fit your defenders relies on several components, including offensive formation, coverage structure and field/boundary protocol. Here at X&O Labs, we wanted to conduct comprehensive research on how linebacker coaches were teaching their players to fit the one-back run game out of the 4-2-5 defense. And what we found were three common threads among our research:
Coaches either fit gaps or schemes… we present both of these philosophies

Coaches are finding ways to get a plus one defender on the read gap in Zone Read schemes… whether it is Inside Zone Read (C gap read), Mid Zone Read (A gap read) or Power Read (B gap read).

Coaches are using eight man fit principles to defend the Y-off formation and the pre and post snap motion associated with it.
So we spent time with four programs that operate out of the 4-2-5, successfully we may add, that all fit one back run concepts differently:
Bucknell University (PA)

Marshall University

Tennessee Chattanooga

California University (PA)
The run concepts we focused on were the Inside Zone, the Middle Zone, the Power and the Power Read. What we found common among all of our contributors was the ability to outnumber the offense by either putting two defenders on the running back or two defenders on the quarterback, depending on which phase you want to eliminate. How each program did this varied, and is explained thoroughly in this report.
We'll start with Bucknell…
The Bucknell Methodology
At Bucknell University, the Bison defense vary its fits based on the run concept. They distinguish their run fits based off two types of zone schemes- the middle zone and what linebacker coach Brad Fordyce calls the cutoff zone. The middle zone has a probability of hitting front side, while the cutoff zone has a higher probability of hitting back side. Because of this, they train their play side linebacker to "fall back" to play the cut back, which is different than programs that use perimeter players to handle this responsibility. The Bison primarily utilize a quarters coverage structure on the back end and by having the play side linebacker responsible for cutback it allows the perimeter players to defend the common RPO (run/pass option) scheme spread offenses employ. In this case, Coach Fordyce details how he fits the various run concepts he sees out of one-back formations.
Contributor: Brad Fordyce, linebacker coach
Stats:
• Been in the top 10 in total defense at the FCS level the last four years in a row.

• Finished 11th in rushing defense in 2014, surrendering 3.04 yards per carry.

• Finished 10th in total defense in 2014, surrendering 302 yards per game.
Personnel and Base Structure of Defense:
Bucknell operates purely out of a 4-2-5 defensive structure and is mainly a Quarter, Quarter, Half coverage team (Diagram 1). Against one back offenses, Bucknell chooses to set its 3-technique to the side of the back regardless of formation. In its purest sense, the 3-technique will be set to the field or tight end side, yet both interior tackles are interchangeable because it presents the ability to line them up head up and move into a shade pre or post snap. Bucknell uses an open side defensive end and a closed side defensive end. The Sam is the field side inside linebacker while the Mike is the boundary side inside linebacker. The strong safety (N in some of the diagrams below) is the field side linebacker. The Whip is the boundary safety while the free safety is the field hash player. Bucknell also plays with a field and boundary corner, mainly because it's field and boundary oriented.