By Luke Tribble - @ltribb3
Defensive Backs Coach
Harding University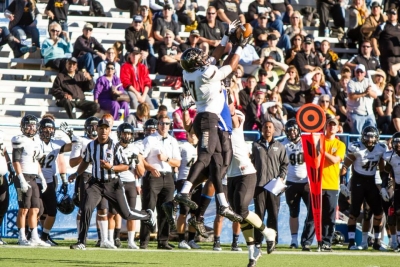 Editor's Note: Coach Tribble became Harding University's Secondary coach summer of 2012. This past season, the Harding secondary led Great American Conference in Total Defense, Scoring Defense, Rushing Defense, Sacks and Opponent Completion Pct (50%). In addition, their run defense ranked 2nd nationally. In 2012, the Harding defense notably held their opponents to 6.1 yards per pass attempt and ranked first in Red Zone Defense.
Introduction
Having played and coached the Safety position in the 4-2-5 defense, I'm a big believer in playing your safeties flat footed whenever possible. Now we play a form of Cover 4 most of the time and this article is written from the perspective of a Quarters Defense. We may play it a little different to the boundary than we do to the field but it's still Cover 4 by principle. More and more teams are playing their safeties flat footed or something close to that, but I believe there are still some people out there that back pedal their safeties because that's what they've always done. The only time our safeties back pedal is when they are responsible for the vertical route of more than one wide receiver, which we call that a divider technique. The times that our safeties use a Divider are basically any time we play Cover 2 vs. two or three wide receivers or when we play Cover 4 to a three receiver side.
Reasoning Behind a Flat-Footed Read
I believe there are many advantages to playing your safeties flat footed. These are the reasons below:
Gets your safeties involved in the run game quicker

Puts safeties in better position to defend intermediate routes

Takes advantage of our safeties strengths

Safeties don't have feet and hips of a Corner, but they can burst, they understand angles and leverage and recognize routes quickly

Denies a 2 way go with vertical routes in the slot

Makes it easier for safeties to have disciplined eyes
Pre-Snap Eyes
Here's exactly what I mean when I say we play our Safeties flat footed. Our safeties are aligned 10-12 yards from the L.O.S. based on formation and personnel. They are in an athletic stance with their feet square to the L.O.S. They will be getting their run/pass key from a TE if there is one on their side. If there is no TE they will key the nearest uncovered OL. (We can change our reads from week to week if needed based on best read and/or packaged plays) When the ball is snapped our Safeties don't move while getting their run/pass key. Some guys will bounce a little which is fine as long as they stay in place. The most common phrase you'll hear from our Safeties Coach is "Don't go til ya know" which as far as I know came from TCU. The worst thing our safeties can do is run themselves out of a play. We stress being patient and then trusting the read you get. If our safeties read run they are flying to their fit. If they read pass they hinge and shuffle.