By Joey Didier - @coachjoeydidier
Co-Defensive Coordinator
University of Saint Francis (IN)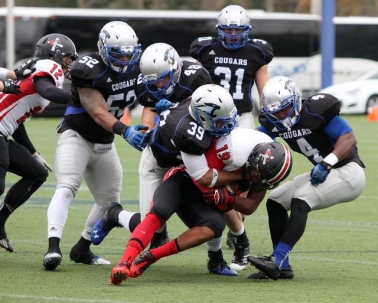 Editor's Note: Joey Didier returns to USF for his fourth season as an assistant coach after playing for the Cougars through the 2004 season. Didier, the Cougars' 2004 Silver Helmet Award winner, served as an assistant at Homestead High School from 2005-09, where he was a 2001 graduate. He was a 4-time letter-winner playing inside linebacker for the Cougars, played in two final fours and was the USF Champion of Character selection in 2004. He received a bachelor's degree in Business Administration in 2005 and a Master of Business Administration in 2013. Didier is also a member of the football strength and conditioning staff and is a Certified Strength and Conditioning Specialist by the National Strength and Conditioning Association.
At the University of Saint Francis, we pride ourselves in game plan preparation. Moving to a new system in 2013 we knew we could prepare adequately for our opponent each week, but in game adjustments may be more of a challenge. To ease the transition of a new scheme, we practiced installing adjustments as a staff during game week. After the initial game plan was installed, our defensive staff spent the remainder of the week analyzing possible weakness in our plan. We would identify areas of concern and counter with possible adjustments for Saturday.
With this approach, we found success implementing a Plan A and Plan B each week. Plan A would stem from our base defense, with Plan B as some innovative variation to counter an identified weakness. We would prep our Plan A during game week and then brief our defensive players about the possible Plan B if needed. We would not extensively practice our plan B, but would devote one practice period late in the week to walk through such potential adjustments.
This approach allowed our defensive staff to make quick in-game and halftime adjustments. Our staff made successful adjustments this season, holding our opponents to 8.1 points per second half. Our 3-high alignment was one of these adjustments. The package was installed to improve defending a vertical passing attack, while denying the sideline to shorten the game. This defense was initially a Plan B for a spread opponent but grew into a package we carried each week. The installation was simple and similar to our base defense, yet unique enough to provide difficulty for our opponent to stretch the field.
Overview
We base with 34 personnel but will substitute a nickel back for a linebacker to give different looks. We not only use this position to enhance game plan creativity, but to also develop a young defensive back with invaluable game experience. This player is normally the first defensive back off the bench and should be one of the more versatile athletes on the field. In 2013, our nickel was a traditional strong safety.