By Adam Hovorka with Rob Everett
Former Defensive Coordinator
Bridgewater College (VA)
Twitter: @nineinthebox
Editor's Note: Coach Everett uses several play simulations in this report. More information on these products can be found at Go Army Edge.
Defending the modern spread offense has become increasingly more difficult as offenses continue to stress defenses with RPOs, option run game, QB designated run game and shifting/motioning. Defenses have had to counter and recent adjustments for many coaches is the Odd Front robber looks that are being played by Iowa State courtesy of Coach Campbell and Coach Heacock. If you think only the Big 12 has these defensive challenges, you couldn't be more wrong. High school defensive coordinators, and small college coaches around the country, are continually searching for answers to the riddle that is the RPO and spread game. For Coach Rob Everett, former DC of Bridgewater College and currently a defensive staff member of Coach Mike Singletary's Memphis Express of the AAF; the answer was and is to play odd front robber.
Advantages of Dime Robber Package:
Allows for 50/34 defense to stay in its base personnel

Play a version of two high coverages

Account for two overhang players

Adding a middle of the field third level player to help in coverage and more importantly an extra hat in the run game
At Bridgewater College, Coach Everett's odd robber package held offenses to 3.1 yards per attempt and was 60% efficient (65% when blitzing). Most importantly, his system allowed his players to line up fast and play aggressive because he was utilizing it with his base quarters personnel. This defense helped Bridgewater to a 6-4 2018 record and their middle linebacker won Defensive Player of the year in their conference.
Adjusting to Base Defense
Bridgewater College is a quarters outfit by trade, so this was not anything different, it was just deploying people in a different fashion. So, they played it on all downs. The thing Coach Everett likes the most about it is that you get a four-man rush (with the late inserting Mike) and because of the front, pass protection is forced into a full slide or big on big with bad leverage. In addition, the middle hole Robber plays as the "number three relater" that the Mike normally does but he is a better athlete and "closes" the middle of the field because they play match coverage enough. It may not be a great answer against 22 personnel because, like in most odd defenses, speed personnel have to match with bigger offensive linemen.
Base Personnel and Alignments:
Below are the base personnel he'll use with this package:
Nose: O-technique defender
Tackles: Two 4i-technique defenders
Mike LB: 10-technique defender; 3 yards off the ball (tighter than normal alignment)
Whip: Field overhang, apex end man on line of scrimmage and number two receiver
Backer: Boundary overhang defender; apex end man on line of scrimmage and number two defender.
Bronco: The "robber" (called Bronco in this defense)
Free Safety: 10 yards over #2 to the field
Rover: 10 yards over #2 to the boundary
Corners: 8 yards over #1 receiver
Below are the alignments based on common offensive formations. It's important to note that a "loose" call tells the Backer and Whip to get depth off the line of scrimmage. A pure Bronco call will put the Whip and Backer closer to the line of scrimmage.
Bronco Loose Vs. 2x2 Open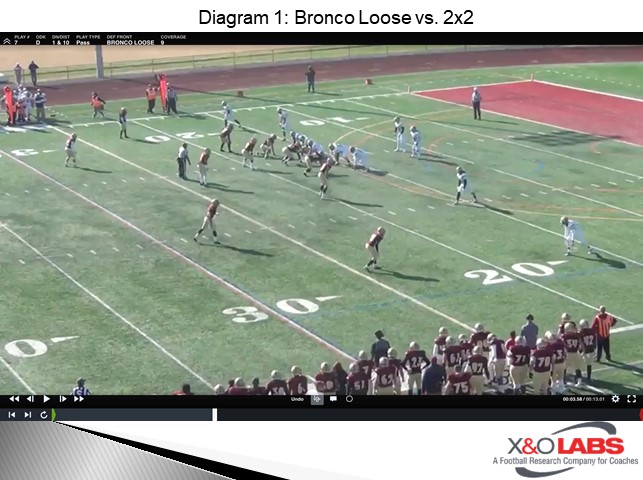 Bronco vs. 2x2 Open